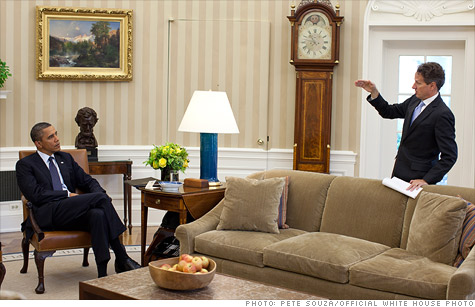 President Obama plans to ask Congress for a $1.2 trillion increase in the debt ceiling this week.
NEW YORK (CNNMoney) -- The year couldn't end without a final word about the nation's debt ceiling.
President Obama plans to ask Congress this week to raise the debt limit by $1.2 trillion, an increase that should get the government through most of next year, a Treasury department official said Tuesday.

Fortunately, though, the increase should come without the fireworks that accompanied this summer's debt battle, as it comes in line with the deal struck back then.

That deal, signed into law in August, authorized a phased increase of the debt ceiling by up to $2.4 trillion, with $400 billion of that kicking in immediately and another $500 billion coming in September.
This final request would increase the debt limit from its current level of roughly $15.2 trillion to $16.4 trillion. The government is expected to come within $100 billion of the current limit by the end of this week, the Treasury official said.
While Obama still has to put the latest increase to Congress, it can only be blocked if both the House and Senate pass a resolution against it, which, with the Democrats in control of the Senate, is extremely unlikely.

In September, the Republican-controlled House passed a resolution against Obama's request to increase the debt limit, but the Senate did not. Even if a joint resolution were passed, Obama could veto it.

With Congress out of session until Jan. 17, lawmakers may not even get to introduce resolutions against the increase within the 15-day window they have once the president's request is made. The increase goes into effect after the 15 days are up.
At the very least, though, it should give Republican candidates one more talking point out on the campaign trail in the coming weeks.
In November, the Congressional committee tasked as part of this summer's deal with cutting the deficit by $1.2 trillion over the next 10 years announced that it could not come to an agreement. As a result, some $1.2 trillion in automatic spending cuts are set to kick in in 2013, though lawmakers may choose to scale back these cuts between now and then.