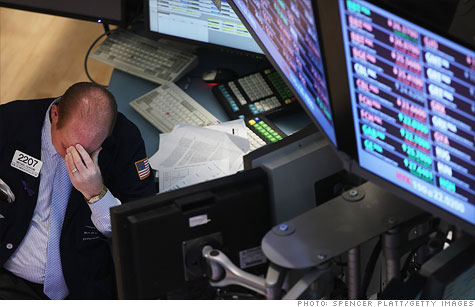 Markets were deep in the red Monday, in part because traders anticipated that the debt committee would call it quits without reaching a deficit reduction deal of at least $1.2 trillion.
NEW YORK (CNNMoney) -- The congressional debt committee's failure likely won't be a disaster for the markets or the economy. But it is a warning signal to both.
"The failure does illustrate yet again the inability of Congress to take the tough decisions to put the federal finances on a sustainable path over the medium term," Capital Economics said in a research note.
And the increased uncertainty about what Congress will do eventually is not exactly a winning formula for investors or businesses.
"Our fiscal challenges will not go away by themselves. Every day we delay putting in place a plan to control our mounting debt, the larger the problem becomes and the more uncertainty we add to the economic recovery," said Maya MacGuineas, president of the Committee for a Responsible Federal Budget.
Stocks: In anticipation of Monday's expected announcement that the super committee would be unable to forge a bipartisan agreement, stocks spent the day deep in the red, ending down 2%.
That's not surprising since stock strategists said investors had been assuming a minimum $1.2 trillion deal would get done, and that anything less could roil stocks at least for a short while. But Europe's debt crisis is likely to remain a bigger concern.
What's more, investors have not been expecting real fiscal reform to happen before 2013, after the presidential election is decided.
Bonds and credit ratings: Treasury rates, already near historic lows, fell on Monday.
"[That] suggests that bond investors are still far more worried about the fiscal crisis in the eurozone," Capital Economics said.
Indeed, relative to Europe, the United States is still considered a safe haven for bond investors and is likely to remain that way for awhile, bond strategists believe.
Nor are investors particularly worried about another U.S. credit downgrade in the wake of the committee's failures. Indeed, both Moody's a few weeks ago and Standard & Poor's on Monday evening indicated as much.
S&P, which downgraded the United States' credit rating this summer because of the political brinksmanship during the debt ceiling debate, said in a statement that the committee's failure would not affect the country's current AA+ rating.
But the ratings agencies will be watching closely to see whether Congress is tempted to repeal or otherwise neuter the $1.2 trillion in automatic spending cuts that will go into effect on Jan. 1, 2013, because of the super committee's failure.
"We expect the caps on discretionary spending as laid out in the Budget Control Act of 2011 to remain in force. If these limits are eased, downward pressure on the ratings could build," S&P said.
To that end, President Obama on Monday warned Congress: He will veto any attempt to undo the so-called sequester. He suggested that if lawmakers don't like the automatic spending cuts -- which will hit defense and nondefense spending -- they should use the next year to come up with their own bipartisan debt-reduction plan worth at least $1.2 trillion.
"We need to keep the pressure up to compromise, not the turn off the pressure," he said.
Economic growth: Investors and economists are eyeing what are already muted economic growth prospects for 2012 and don't want them to get any weaker.
That's what they're afraid will happen if Congress doesn't pass a number of expiring provisions -- such as temporary payroll tax relief and long-term unemployment benefits. A super committee package was considered a likely vehicle for those measures. Now, they're essentially homeless.
"The question now is whether politicians can still come together and get these extended, in what is likely to be a poisonous atmosphere as each side blames the other for the super committee's failure," Nigel Gault, chief U.S. economist for IHS Global Insight, said in a statement.
Failure to extend them could be another potential negative for stocks, said John Toohey, vice president of equity investments at USAA.
More broadly, economists worry about the effects of fiscal uncertainty on growth prospects.
But Gault said his economic outlook remains unchanged in the face of the committee's failure.
"From the very start we have assumed that the super committee would fail, and we have assumed that massive fiscal uncertainty would cast a shadow over consumer and business confidence, and the willingness to spend and take risks, throughout 2012," Gault said.
But the longer Congress waits to address the country's long-term debt challenge, the more that uncertainty may feed on itself and the worse it will be for the economy.