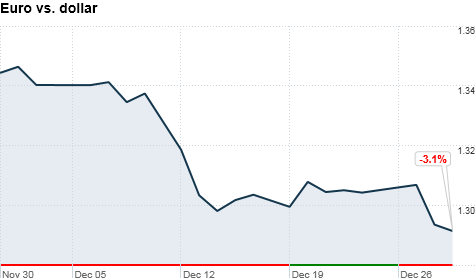 Click chart for more currency data.
NEW YORK (CNNMoney) -- Selling pressure pushed the euro to its lowest level since mid-2010, and the currency could go even lower early next year.
The euro slid as low as $1.2857 -- a level not seen since July 2010, around the time when the Federal Reserve predicted a weaker recovery and Fed chairman Ben Bernanke said the outlook was "unusually uncertain."
Part of the move was attributed to light volume, which typically leads to more pronounced moves. But one expert said the euro could slide even further come January.
"Investors seem increasingly convinced that the European situation will be stabilized," said Sebastien Galy, senior currency analyst at Societe Generale.
This week's Italian bond auctions signal more confidence in shorter-term debt, with strong demand and sharply lower yields than prior auctions. That suggests banks are willing to take on that shorter-term risk.
If that trend continues, banks may start to buy up longer-dated debt, which turns out to be "risk positive, but euro negative," said Galy.
He said the euro could bounce back to $1.30, but he sees another slide back toward $1.26 in January.
"Lower financing costs are helpful for European stocks and sentiment [but] investors perceive it as a form of quantitative easing by the back door, which means that more euro are printed," Galy explained.
It would mean a boost for the U.S. currency.
A stronger dollar may sound like a good thing, but for companies that do a lot of business outside of the United States, the opposite holds true. That's because companies convert their revenue back into dollars when they report quarterly results. And a stronger dollar can crimp that conversion.
Just last month, Fossil (FOSL), which generates more than 50% of its revenue from outside of the United States, trimmed its fourth-quarter earnings forecast. Other companies, including Royal Caribbean Cruises (RCL), Compuware (CPWR), and Tupperware Brands (TUP), also cited the dollar's strength as a reason for weaker outlooks.
-- CNNMoney reporter Hibah Yousuf contributed to this report.