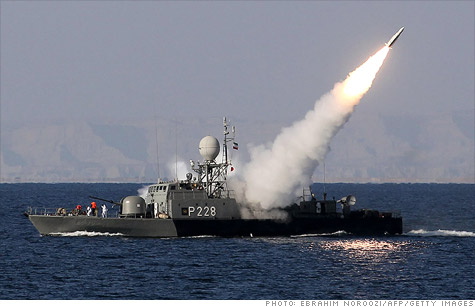 Iran's missile launches have heightened concerns over its threat to close the Strait of Hormuz, leading to a rise in oil prices.
NEW YORK (CNNMoney) -- Oil prices surged 4% Tuesday, fueled by continued anxiety over Iran's growing threat to shut down the Strait of Hormuz after the Iranian military launched a missile test.
"It's mostly about Iran right now," said Peter Beutel, analyst with energy risk management firm Cameron Hanover. "That's the most bullish factor."
Oil prices jumped 4.2% to settle at $102.96 a barrel. That's the highest closing price since May 10, when prices ended the day at $103.88 a barrel.
The Strait of Hormuz is a critical shipping lane, with 17 million barrels of oil per day passing through in 2011, according to the U.S. Energy Information Agency.
That's about one sixth of global oil production and nearly 20% of all the oil traded worldwide. Iran itself only exports about 2.2 million barrels of oil a day.
Just last week, Iran issued its initial threat to shut the shipping lane linking the Persian Gulf with the Gulf of Oman. Iran's southern coast borders that entire area.
"If Iran oil is banned, not a single drop of oil will pass through Hormuz Strait," Iran's 1st Vice President Mohammad Reza Rahimi said at that time, according to the Iran State News Agency.
The new Iranian threat followed increased sanctions from Western countries to limit the amount of oil that Iran can export. In particular, the U.S. government tightened restrictions on companies that provide Iran with equipment and expertise necessary to run its oil and chemical industries.
Beutel said that Iran increased tensions in the last couple of days by launching missiles capable of striking targets on land and sea.
Merrill Lynch has projected that a shutdown of the Strait of Hormuz could cause a $40 spike in oil prices.
However, in order for Iran to choke off the strait, its military would have to take on the U.S. Fifth Fleet, which is based in nearby Bahrain.
Iran's military spending is equal to only 2.5% of its gross domestic product, according to the CIA. So it's not a given that Iran has the firepower to take on the United States, a much larger country that spends more than 4% of its GDP on the military.
"[Shutting down the strait] won't happen because the U.S. can't allow it to happen and Iran knows this," said Dan Dicker, a former oil trader and author of 'Oil's Endless Bid: Taming the Unreliable Price of Oil to Secure Our Economy.'
"The Iranians rattle sabers every other Thursday," said Dicker, though he added that Iran's posturing could still add fuel to a volatile situation and drive up prices.
"The geopolitical climate on oil is fragile as hell and there's not a lot of capacity," said Dicker, who projects that oil could rise to $125 a barrel this year.
Early last year, uprisings in Libya led to oil production disruptions and surging oil prices. Prior to the unrest, Libya was producing roughly 1.6 million barrels per day, compared with Saudi Arabia's current daily output of around 9 million barrels per day.
Oil prices stayed above $100 for nearly 12 weeks straight before easing back. And Libya's production is still nowhere near its pre-unrest levels.