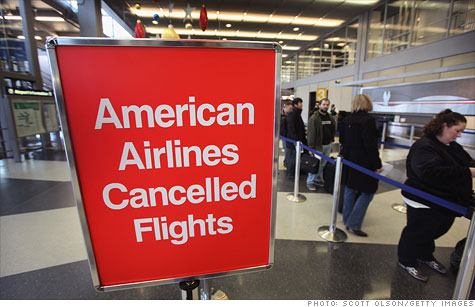 Expect more high-profile and midmarket companies to follow American Airlines into bankruptcy court in 2012.
NEW YORK (CNNMoney) -- Expect the number and size of corporate bankruptcies to double in 2012.
At least that's what Fitch Ratings is saying and experts seem to agree that more will be coming down the pike.
"2011 wasn't a huge restructuring year," said Jonathan Henes, a bankruptcy attorney at Kirkland & Ellis. "A lot of companies found short-term fixes, but when things don't get better you need a restructuring to find a long-term fix."
Restructuring doesn't necessarily mean bankruptcy but Fitch predicts defaults among all corporate bonds will rise to roughly 3% this year, up from 1.4% in 2011 and 1.3% in 2010.
Despite a rocky, volatile market in 2011, the number of bankruptcy filings and the value of bonds affected were relatively small. On average, default rates still remain far below the average annual rate of 5.1%, according to Fitch.
American Airlines (AMR, Fortune 500) and power company Dynegy were the largest to file last year though a host of other well-known companies, such as Friendly's, did as well.
Looking forward, companies that carry a lot of high-yield and low-grade CCC bonds will be at the highest risk.
And it will be the middle market companies, valued anywhere from $200 million to $1 billion, that will be the most likely bankruptcy candidates since it's harder for them to find ways to refinance.
"Nobody is going to want to put more money into these companies," said Harvey Miller, a bankruptcy partner at the law firm Weil Gotshal & Manges. "Hedge funds didn't have a good year so that will play into it too."
Among the sectors expected to fare the worst in 2012 are restaurants, retail, and consumer products firms. The continuing economic malaise has hit these firms already.
Sears Holdings (SHLD, Fortune 500), which recently announced that would close between 100 and 120 stores, is among the retailers rumored to be a 2012 bankruptcy candidate.
Another iconic American brand in that mix: Eastman Kodak (EK, Fortune 500). The former maker of Polaroid cameras has been battling bankruptcy rumors for most of 2011 and reportedly lost a third director from its board near the end of the year.
"It will not be a panic situation like 2009," said Miller. "It will be a more modulated pace."
In 2009, roughly $80 billion in loans went belly up, according to Dealogic. Last year, that figure only reached $10.2 billion. (see correction below)
Another bright spot will be companies carrying BB and B ratings. According to a recent Fitch survey, those borrowers are ahead of the curve, with revenue and earnings growth surpassing debt loads.
With growth comes more risk but Fitch sees it as a positive for the U.S. economy in 2012.
Correction: An earlier version reported the incorrect figure for 2011.