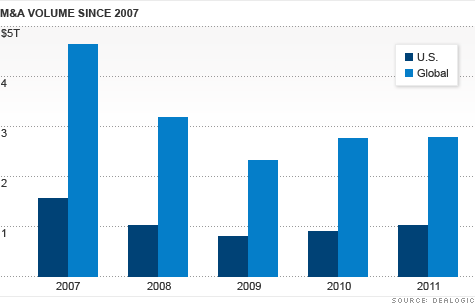 Global M&A volumes are still far from 2007's highs.
NEW YORK (CNNMoney) -- A word of warning to public company CEOs: Watch your back and your competitors.
It could be a hostile year in corporate boardrooms, as M&A professionals predict unwelcome takeover bids and forced corporate breakups.
"Companies got a pass in 2011, because the equity markets were good the year before," said Bob Profusek, a partner who runs the M&A practice for law firm Jones Day. "Stocks have flatlined, so there will be a lot of activist activity. That's frequently a catalyst for M&A activity."
With record levels of cash on corporate balance sheets and low interest rates, CEOs will be under pressure to put that cash to work. And with the S&P 500 (INDU) on track for a flat finish to the year, it's the perfect tipping point.
"To the extent that American corporations don't deploy capital, there will be a fair bit of agitation," said James Woolery, co-head of North American M&A at JPMorgan Chase (JPM, Fortune 500). "There will be a 'deploy it or return it' mentality from some shareholders because of weaker stock prices."
The slow-growth environment overall makes it more enticing for many companies to buy than build. Buying competitors -- whether it's a friendly offer or a hostile one -- is an easier way to generate returns to shareholders.
Jeff Raich, a founding partner at investment bank Moelis & Co, said that in the past he would typically recommend against hostile bids, but he's changing his tune. "In certain circumstances, now, I think it's a more accepted deal technique," he said. "The stigma of making an unsolicited hostile approach isn't there in the same way."
One hostile deal that could close in 2012 involves construction materials firm Martin Marietta Materials (MLM), which made an unsolicited $4.7 billion bid for its larger competitor Vulcan Materials (VMC). Martin Marietta's $36.69 per share offer was 9% higher than Vulcan's closing price on Dec. 9 before the bid was made.
It's one of the highest-priced hostile takeover attempts in recent memory. Since Martin Marietta announced its offer on Dec. 12, its shares have slid only 0.6%, whereas Vulcan's shares shot up 15%.
It's not just hostile offers that companies and shareholders will push for.
Last September, McGraw-Hill (MHP, Fortune 500) bowed to pressure from two activist shareholders, and announced it would split itself up into two businesses -- one focusing on education and one on markets, where S&P ratings will sit.
"The equity markets don't like it when companies are in two businesses that are valued differently," said Jones Day's Profusek.
Oil companies Marathon (MRO, Fortune 500) and ConocoPhillips (COP, Fortune 500), as well as drugmaker Pfizer (PFE, Fortune 500) were among the other large breakups of 2011. M&A professionals say many more are in the works.
"They're big deals, but they're not sexy [like takeovers]," said Profusek. "It's like watching an amoeba divide."
Meanwhile, M&A activity is still far off its 2007 highs, although it's been trending up since 2008. And that trend is expected to continue.
Moelis & Co.'s Raich said his pipeline for deals set to close in early 2012 is more robust than this time last year. "There's pretty good pent up activity," said Raich.
Where will the deals be? Everywhere.
"There's nothing like the LBO bubble of 2006 through 2008 that will be driving activity," said Raich. "There will be broad participation across sectors both from strategic buyers and financial sponsors."
Among Raich's bold predictions for 2012: a $10 billion leveraged buyout. "I have a feeling that sometime during the year the debt markets will open up in a bigger way and there's lots of capital to be deployed within these private equity firms."
No transaction in which a private equity firm took a public company private crossed even the $8 billion mark this year. The largest leveraged buyout of 2011 was Kohlberg Kravis Robert's $7.2 billion LBO of oil and gas firm Samson Investment (SSN).
JPMorgan Chase's Woolery said cross border deals will drive a lot of the M&A activity in 2012.
"Growth in the European Union is flat to down. In South America, China and other emerging markets, it's expected to be in the high single digits," said Woolery. "Companies will do deals to get greater exposure to higher growth regions."
Woolery said he expects Asian firms to become even more active buyers on a global scale.
Still, in M&A, like every area of the markets, a crisis in Europe could throw every good prediction out the window.