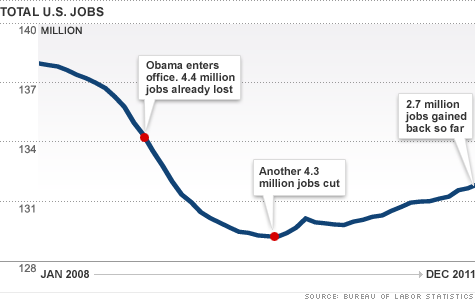 Click the chart for an interactive timeline tracking Obama's jobs record.
NEW YORK (CNNMoney) -- The job market is getting better, but it's far from healed. Will President Obama be able to turn things around in time to save his own job?
From the labor market's height in January 2008 to its bottom in February 2010, 8.8 million jobs were cut, and the unemployment rate soared as high as 10% in October 2009.
Obama has taken a lot of heat for that.
But only about half of those job losses -- or 4.3 million -- happened under his watch.
And by measuring his record against that benchmark, it looks like Obama could actually break even, and maybe even come out ahead on jobs.

As of December, roughly two thirds of the jobs lost during Obama's presidency have been recovered.
That leaves a hole of slightly more than 1.6 million jobs for him to fill by the end of 2012.
It's a tall order. But it might just happen.
Economists surveyed by CNNMoney are predicting that American employers will add exactly that many jobs this year.
Add that to upward revisions the Labor Department has already said it will likely add to its 2011 job tally, and Obama could very well end up with net job growth for his first term.
"The trend is heading in the right direction for Obama right now," said Ryan McConaghy, director of the economic program at think-tank Third Way. "More jobs and lower unemployment are what he wants to continue to see."
Meanwhile, the unemployment rate, has already fallen to 8.5% -- getting closer to the 7.8% it was at when Obama was inaugurated.
What's in a number?
How much will the improvement help Obama's chances? History is a dubious measure.
George W. Bush ended his first term with a loss of 13,000 jobs and a higher unemployment rate than when he began, and he still won re-election.
But unemployment is a bigger issue today than it was then. (Check the unemployment rate in your state.)
And no president since Franklin D. Roosevelt has been elected for a second term with an unemployment rate over 7.2%.
As of December, 13 million people remain unemployed. Try convincing them that Obama has solved the country's economic woes.
"Having a high level at 8% unemployment -- that's going to be hard for him to overcome," said Dean Baker, co-director of the Center for Economic and Policy Research. "If I'm President Obama, I don't want to be in the position of telling people this is a good economy -- that strategy is going to fall flat."
Editor's note: An earlier version of this story said President George W. Bush ended his first term with a loss of 152,000 jobs. His first four years ended with a loss of 13,000 jobs.