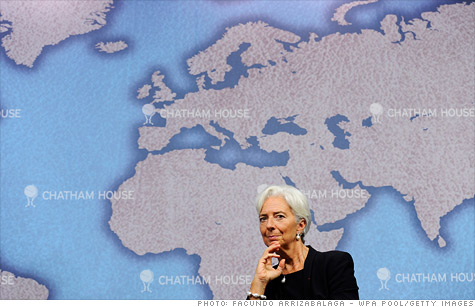 IMF managing director Christine Lagarde has requested an increase in the fund's resources as global financing needs are expected to reach $1 trillion over the next few years.
NEW YORK (CNNMoney) -- The International Monetary Fund said Wednesday that it plans to raise up to $500 billion in order to meet an estimated $1 trillion worth of financing needs over the coming years.
The new funding includes a $200 billion commitment announced by euro area governments last year, the IMF said. It was unclear Wednesday where the remaining resources would come from.
The fund said it is "exploring options on funding" and would not comment further until various discussions with its members have been completed.
A U.S. Treasury Deparment official said "[the United States has] no intention to seek additional resources for the IMF."
U.S. officials said the IMF has sufficient funding to meet its objectives, including its role in the eurozone debt crisis.
"Europe has the capacity to solve its problems," the official said in a statement. "The IMF cannot substitute for a robust euro area firewall."
The 187-member IMF provides financial assistance to struggling economies around the world as part of its mission to maintain the stability of the global financial system.
The IMF, which measures its funds in a basket of currencies known as Special Drawing Rights, has about $390 billion to work with.
The Washington, D.C.-based fund has been a key player in combating the ongoing debt crisis in Europe, taking part in bailouts for Greece, Ireland and Portugal.
IMF managing director Christine Lagarde said late Tuesday the fund was reviewing the adequacy of its resources at the request of its members following a summit of world leaders last year.
"The biggest challenge is to respond to the crisis in an adequate manner and many executive directors stressed the necessity and urgency of collective efforts to contain the debt crisis in the euro area," she said, adding that economies around the world remain vulnerable to financial "spillovers" and economic imbalances.