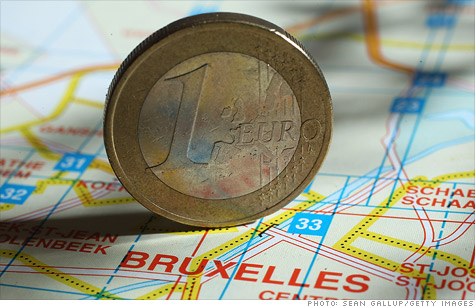 Europe's leaders have been sounding upbeat about a proposed fiscal union and the pressure has just intesified following the recent downgrades.
NEW YORK (CNNMoney) -- The downgrades of nine eurozone governments by Standard & Poor's wasn't a surprise, but they came just as there were tentative signs of improvement in the region's debt crisis.
Last week's auctions of Italian and Spanish debt drew strong demand, modestly easing borrowing costs. And recent moves by the European Central Bank have alleviated concerns about a credit crisis in the banking system.
S&P said the downgrades were driven by "insufficient" policies by European leaders that have failed to fully address the root causes of the crisis.
The agency also pointed to risks associated with a deeper-than-expected recession, tightening credit conditions, rising borrowing costs for a growing number of nations and the simultaneous push to get out of debt by both households and governments.
The downgrades may not wreak too much havoc in financial markets this week, since S&P only confirmed what the market already knew.
"I think this has been priced into the market," said Jeremy Hare, managing director of investments at Gilford Securities. "I don't see the impact of countries losing AAA status or being downgraded as a huge issue."
But looking ahead, S&P warned that most eurozone governments could face further downgrades borrowing costs remain high or the economy weakens further.
The amount of debt eurozone governments need to refinance this year is estimated to be over €830 billion, according to HSBC. And that has investors worried.
Italy and Spain, which were both cut two notches, need to sell billions of euros worth of bonds in the next few months.
Their recent auctions "were considered to be successful," said Moritz Kraemer, the head of European sovereign ratings at S&P, during a conference call Saturday. But he cautioned that longer-term interest rates for both nations remain elevated.
The market's appetite for eurozone government debt will be put to the test this week when France comes to market with nearly €9 billion worth of debt.
France and Austria were both stripped of their AAA ratings, while S&P reaffirmed the top ratings of Germany, the Netherlands and Finland.
Jeffrey Bergstrand, a finance professor at the University of Notre Dame's Mendoza College of Business, said the downgrades will have a minimal impact on interest rates for countries such as France, Italy and Spain "because most of this information was anticipated."
But the downgrades that were not anticipated or were deeper than expected could push borrowing costs higher for other governments. Portugal, for example, had its debt cut two notches and is now considered speculative grade.
Still, the strong demand for the shorter-term Spanish and Italian debt last week raised hopes that a new lending program by the ECB could be helping.
In December, the ECB pumped nearly €500 billion into the banking system in an effort to prevent a credit crunch. The bank will offer a second round of financing later this year that is expected to be equally large if not larger.
To put that in perspective, the eurozone bailout fund is currently valued at €440 billion.
ECB president Mario Draghi said last week that it's too soon to say whether banks are using central bank funds to buy government bonds, adding that many potential bidders are not eligible for ECB loans.
"The jury is still out on that one," said Kraemer. "But we think that, for the time being, they [the ECB] have had a constructive role in the crisis."
The main problem, according to S&P, is that European policymakers have not been able to come up with a lasting and comprehensive solution.
Specifically, the European Union summit on Dec. 9, which produced the so-called fiscal compact, failed to deliver a "breakthrough," the agency said.
The pact, which leaders are expected to sign later this month, would institute budgetary oversight and enact penalties for member states that run large deficits.
But the agreement does not address the lack of competitiveness and structural problems in southern Europe that underlie the crisis, according to S&P.
European leaders responded to the downgrades by defending their actions and pledging to push ahead on fiscal reforms.
German Chancellor Angela Merkel said the downgrades mean Europe faces a "long road" to regain investors' confidence, adding that officials are now "called upon to implement quickly the fiscal pact and implement it decisively - without trying to water it down everywhere," according to reports.
Kraemer acknowledged the "great progress" that has been made by new government regimes in Italy and Spain. But he said the improvement is being offset by the lack of progress at the European level.
"The political environment on the European level has not keep up with the rising challenges of this crisis," said Kraemer.