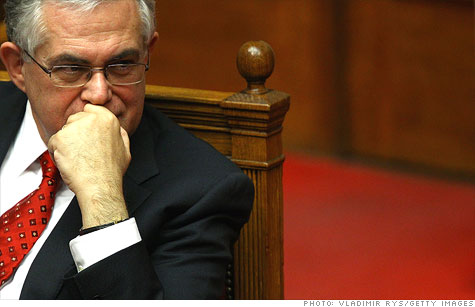 Greek Prime Minister Lucas Papademos is trying to sell a plan that would require bondholders to swallow big losses.
NEW YORK (CNNMoney) -- A deal on restructuring Greek debt remained elusive on Thursday, as the second day of talks ended with the nation's private sector creditors without an agreement.
Negotiations with Institute of International Finance, which represents the private sector investors who own Greek government bonds, will resume Friday.
The talks in Athens hinge on a plan that that cuts the value of Greek government bonds in half.
The deal would result in significant losses for the private sector, which holds over €200 billion of Greece's €350 billion debt load.
But a restructuring of Greek debt would also provide much-needed breathing room for the nation at the center of Europe's debt crisis.
The deal is a key condition for Greece to receive additional bailout funds from the European Union and International Monetary Fund. Without additional financial support, Greece may not be able to make a €14 billion payment it owes on bonds coming due March 20.
Under terms negotiated in December, the private sector agreed to voluntarily write down the face value of Greek government bonds by 50%. In exchange, investors would be given securities with longer maturities and lower interest rates.
But the talks broke down last week amid calls for the private sector to take larger write downs. Even with the current 50% writedown, the lower interest rates investors would get as part of the deal would translate into a bigger overall reduction.
The negotiations have also been hampered by disagreements over the stipulation that private sector investors voluntarily accept the write downs. This is important because a non-voluntary write down could trigger insurance contracts called credit default swaps, a development that could roil the financial system.