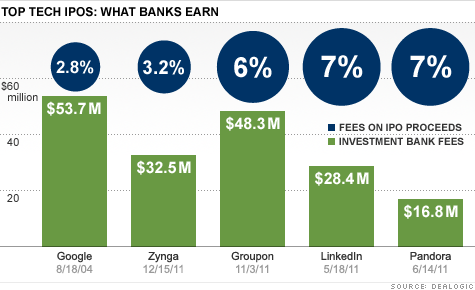 If it comes in at 1%, Facebook's IPO could generate some of the lowest fees ever.
NEW YORK (CNNMoney) -- Facebook may be gearing up for one of the biggest initial public offerings ever, but it may get a bargain in at least one part of the deal: bank fees.
The company appears likely to convince banks to slash the rates they charge to take Facebook public.
Investment banks that assist Facebook in shepherding the company into the public markets could generate just 1% of the total amount offered, according to a source with knowledge of the company's discussions with its underwriters.
That would illustrate just how valuable the bragging rights to one of the decade's top IPOs are for the titans of the financial world.
If, as reports state, Facebook sells $10 billion worth of stock in its offering, valuing the company at $100 billion, the social network's underwriters would split $100 million in fees.
If fees land in the 1% range, Facebook's IPO would generate the second lowest underwriting fees of all time with the exception of General Motors (GM, Fortune 500). After its government takeover, General Motors filed for an $18 billion IPO in November 2010, generating fees of 0.75% on that total sum, according to Dealogic.
Morgan Stanley (MS, Fortune 500) and Goldman Sachs (GS, Fortune 500) are rumored to be contending for the top spot in the underwriting team. The lead spot, which most reports say will likely to go to Morgan Stanley, gets the majority of that payout.
Facebook didn't respond to requests for comment and both banks declined to comment.
While $100 million is a lucrative payout for a single deal, basic, smaller IPOs often pay up to 7% in fees. That was the fee both online music provider, Pandora (P), and job networking site LinkedIn (LNKD) paid to investment banks for their $400 million and $241 million respective public offerings, according to Dealogic.
One of the most anticipated pre-Facebook IPOs, Groupon (GRPN), paid a relatively steep 6% for its $800 million IPO. Compare that to Zynga (ZNGA) and Google (GOOG, Fortune 500), with IPOs of $1 billion and $1.9 billion respectively. Both companies paid significantly lower rates of 3.25% and 2.8% respectively, according to Dealogic.
Why are banks will to leave a potential $600 million on the table to get a top spot on Facebook's IPO book?
Bragging rights to the deal of the 21st century and a piece of the tech behemoth's future prospects, both debt offerings and M&A work, which will each yield more fees.
"The fee range tends to be driven by whether a bank might be able to leverage off of the relationship and do more transactions for a client," said Peter Astiz, the co-head of DLA Piper's technology group who served as underwriting counsel on Groupon's IPO.
Underwriting fees dropped precipitously in the fourth quarter of 2011 for most banks, along with overall investment banking activities. At Goldman Sachs, underwriting fees dropped to $387 million in the fourth quarter 2011, down 56% from the same period in 2010. Morgan Stanley's underwriting fees also dropped 54% in the fourth quarter to $477 million.
Outside of the lead underwriter, fees generated from the Facebook IPO will likely be split among more than a dozen banks. Groupon, for example, had 14 banks on its IPO team.