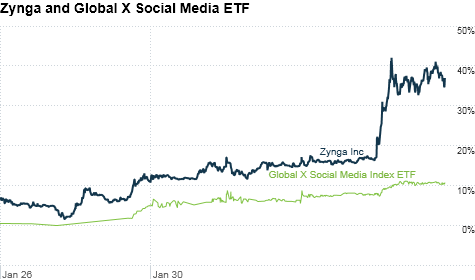 Click the chart to track Zynga's stock.
NEW YORK (CNNMoney) -- Now that Facebook has finally filed for its much anticipated initial public offering, the enthusiasm for other social media investments has spread like wildfire.
Shares of Zynga (ZNGA), which makes games, such as FarmVille, that are played on Facebook, surged 30% from last Friday. That's when investors first got word that Facebook's IPO filing was coming this week. Zynga represented 12% of Facebook's total revenue in 2011, according to the filing.
Meanwhile, Groupon's (GRPN) stock has spiked almost 20%, and LinkedIn (LNKD) shares have climbed almost 6%.
It's not just individual stocks benefiting on the Facebook frenzy.
Trading volume in the Global X Social Media ETF (SOCL), which includes all of the buzzworthy publicly-traded social media platforms, has surged from an average daily volume of about 6,000 shares to more than 120,000 shares on Wednesday and Thursday. That's a nearly 20-fold increase in less than a week and helped propel the ETF's shares more than 10% higher.
What's more, assets in the fund more than doubled from $1.4 million to almost $3 million on Wednesday, the day Facebook filed for its IPO.
That explosive growth is just the beginning, according to Global X, which launched the ETF in November.
"The Social Media ETF got a really slow start, but it has really transformed ever since the news of the Facebook IPO," said Global X CEO Bruno del Ama, who thinks social media rockstar Twitter will follow Facebook's lead with a filing during the first half of this year.
While Facebook will eventually become a top holding in Global X's social media fund, it won't happen until five days after the company makes its stock market debut, which could still be months away. The five-day rule allows the parent of the Solactive Social Media Index, which Global X tracks, to vet companies it wants to add.
That means investors of the ETF will miss out on Facebook's IPO debut and the stock's early moves, but Global X's del Ama says the rule helps "avoid speculative trading that happens early on, which can play for or against you."
In addition to the social media ETF, other funds have also attracted attention thanks to Facebook's IPO filing.
Trading volume in the GSV Capital (GSVC) fund, which invests in "high growth" pre-IPO companies and owns 225,000 shares of Facebook, has spiked more than 500% compared with its daily average through Jan. 27. And shares of the Silicon Valley-based fund have surged almost 20% since then.
Facebook represents approximately $6.5 million, or 15% of GSV's total portfolio, according to a company statement made last June.
The Firsthand Technology Value Fund (SVVC) has also drummed up a lot of interest. Facebook is the fund's largest holding, representing more than 5% of Firsthand's $84 million worth of assets. Trading volume has skyrocketed, and shares of the fund are up more than 50% in the last week.
Not every fund with exposure to Facebook before its IPO has been so lucky ... yet. T. Rowe Price has snapped up a $408 million investment in Facebook, which is spread across 19 of its mutual funds, including the T. Rowe's Media & Telecommunications Fund (PRMTX).
Similarly, Fidelity has positions in Facebook across more than 30 of its mutual funds, including the Fidelity Contrafund (FCNTX).
But the stake of Facebook in each of those funds is relatively small and therefore won't have a great impact on the overall performance of the fund, said Russel Kinnel, director of mutual fund research at Morningstar.
-- CNNMoney's Julianne Pepitone contributed to this article.