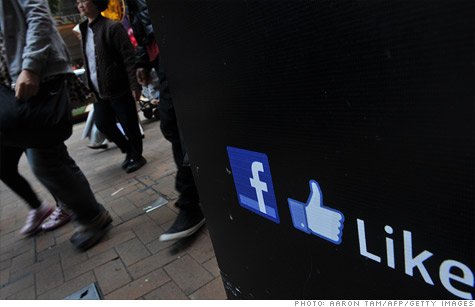 The post-Facebook secondary trading market will be much smaller but still draw interest.
NEW YORK (CNNMoney) -- Facebook has played a big role in the private trading markets that allow eligible investors the chance to snap up shares of hot Internet companies years before they go public.
But now that Facebook is following Groupon (GRPN), LinkedIn (LNKD), Zynga (ZNGA) and Pandora (P) to become a publicly traded company, can that market survive?
"There's no question that once Facebook goes public, there will be a hole in this market," said Hans Swilden, a managing director at Industry Ventures, a $1.1 billion fund that buys secondary stakes in private companies.
For SecondMarket, one of the largest private exchanges, Facebook accounted for the majority of the $1.1 billion of stock that it's traded since 2009, according to company spokeswoman Aishwarya Iyer.
And a host of other companies have sprung up over the past several years, largely because of "the Facebook phenomenon," noted Swilden.
SharesPost runs a platform similar to SecondMarket, and smaller investment banks including Wedbush Securities and Cantor Fitzgerald have created divisions that specialize in private share transactions.
Felix Investments, another active private market participant that has channeled money from roughly 1,000 investors into 17 funds that own "several hundred million dollars" in Facebook, as well as pre-IPO shares of Twitter and Groupon, isn't worried.
"I don't think a company will ever grow to the size of Facebook again as a private company, but new companies come on our radar every day," said Felix partner Frank Mazzola. "We're busier than we've ever been."
Still, Mazzola won't name names of companies he's scouting or investing in. Without Facebook, Groupon, Zynga and LinkedIn, few brand name companies are private and of enough scale to generate substantial trading activity.
SecondMarket won't disclose names of companies trading on its platform, and perusing SharesPost's list of possible companies offers few standouts.
Private markets have also come under closer scrutiny by regulators. Last year, the Securities and Exchange Commission started taking a closer look at how these markets operate but has not yet stepped in with tighter regulations.
Facebook acknowledged that it has cooperated with "formal and informal" requests for information from the SEC and believes it has complied with federal securities laws. "We have provided all information requested and there are no requests for documents or information that remain outstanding," the company said in its IPO filing.
The other challenge for private markets is that some of the new hot companies, such as file sharing firm Dropbox and Twitter co-founder Jack Dorsey's mobile payment venture Square, are simply too young to have hundreds of employees with shares to sell.
At most startups, employees are barred from selling shares for the first year of employment and then receive stock options over a four-year-period.
As companies take longer to go public, or don't at all, private markets still offer a way for employees to cash out. Alan Patricof, a venture capital investor at Greycroft Partners in New York, said he's never had one of his portfolio companies trade on SecondMarket's platform yet, but expects that at least one to two companies will in the next few years.
"The secondary markets will survive. It's never going to be the main way companies get liquidity," said Patricof, who has invested in social media companies including Klout. "But, more companies will continue to get traded there, and it will become more of an interim step toward an IPO."