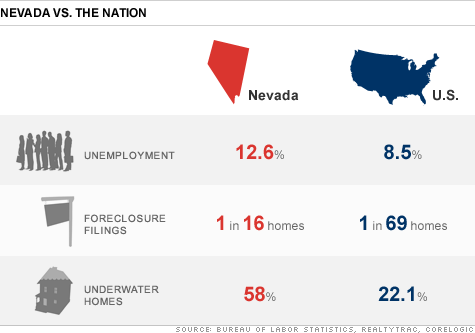 Nevada has the dubious distinction of leading the nation in unemployment, foreclosure filings and number of underwater homes. That's not good for the state's economy.
NEW YORK (CNNMoney) -- The Great Recession has dealt Nevada a losing hand.
The Silver State, which will hold the Republican caucus on Saturday, has the dubious distinction of leading the nation in unemployment, foreclosure filings and share of homes worth less than the mortgages on them.
The collapse of the housing market wreaked havoc on homeowners, but also caused the once-prospering construction industry to fold, sending the unemployment rate skyrocketing.
Adding to the state's woes, the national economic downturn hurt Nevada's lifeblood of tourism and gambling, costing even more jobs.
Nevada's unemployment rate soared to an all-time high of 14.9% in December 2010. While it's since fallen to 12.6%, that's still more than four percentage points higher than the national rate. And more than half of those out of work have been jobless for at least six months.
A staggering 1 in 16 homes have been hit with a foreclosure filing, versus the national rate of 1 in 69 homes. And more than half of borrowers owe more on their mortgages than their homes are worth, compared to just over a fifth nationwide.
Meanwhile, home prices continue to plummet. S&P/Case Shiller recently reported that Las Vegas home prices fell by 9.1% over the 12 months ending in November, the second-worst performance among the 20 cities surveyed. The reason: a high number of foreclosure sales.
The myriad foreclosure prevention programs rolled out by the Obama administration have done little to stabilize housing and the economy in this hard-hit state, housing counselors say.
"While they've been helpful, they haven't addressed the heart of the problem," said Gail Burks, chief executive of the Nevada Fair Housing Center, noting the unending drop in home values. "Nothing in Nevada has stemmed the tide and gotten the market back on track."
Maria Plumeri is one of those delinquent homeowners fighting to get a loan modification. She and her husband, Paul, stopped paying their mortgage in September after the $1,200 monthly tab became too much for them on his Social Security and pension and her disability checks.
Plumeri, who owes $189,000 on a home worth $32,000, is hardly alone in her Sandy Valley community. Neighbors on either side of her are also delinquent.
"If you drove around Sandy Valley, you'd see a lot of stickers from the bank. There has to be 20 houses with no one living in the them," said Plumeri, 64. "The government hasn't helped anyone here in Sandy Valley."
Experts cite several stumbling blocks, including an unwillingness of the banks to participate and the need to reduce the mortgage principal for so-called underwater borrowers.
Even if home prices rise 2% to 3% a year, it will take an average of 10 years for homeowners' debts to come in line with property values, said Nasser Daneshvary, director of Lied Institute for Real Estate Studies at the University of Nevada, Las Vegas. Many people aren't willing to wait that long, instead choosing to simply walk away.
Others say increasing employment is the key to saving the state's housing market. Not only is joblessness prompting people to default on their mortgages, but it's preventing them from buying properties.
"No matter what we do for them, no matter how much principal reduction we give them, if they don't have a job, they will default," said Leonard Chide, executive director of Neighborhood Housing Services of Southern Nevada. "If people had jobs, they'd pay their bills."
The good news is that a sliver of silver lining has appeared. The state's economy has begun to recover, though improvement is slow, said Stephen Brown, director of the Center for Business and Economic Research at the University of Nevada, Las Vegas. Tourism is picking up, as is gambling. But the housing and construction industries are expected to remain in the doldrums for the time being.
"Nevada cannot look to real estate for its economic growth right now," Brown wrote recently in his 2012 outlook for the state. "Diversification will pay dividends in the future."