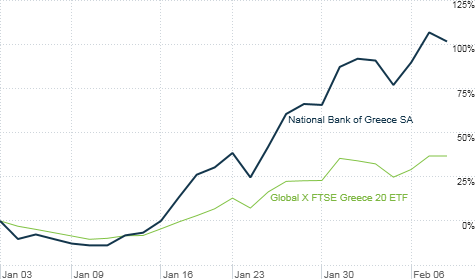 Default? What default? Shares of a leading Greek bank have more than doubled in 2012. An ETF of Greek stocks is surging. Investors may be ignoring big risks.
NEW YORK (CNNMoney) -- Stop me if you've heard this before. Greece is close to getting another bailout from the European Union, International Monetary Fund and European Central Bank, the so-called troika.
Greece may also be close to a deal with creditors that will cut its Cyclops-sized debt load.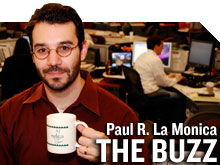 By the time I finish writing this column, an agreement with bondholders and a new aid package from the troika may finally be reached. Or there could be 17 conflicting news reports about the status of the various talks.
Either way, one thing is certain. Even if Greece is able to wind up avoiding a disorderly, chaotic default, the recent market rally related to Greece might be a bit excessive.
The U.S.-listed shares off National Bank of Greece (NBG) have more than doubled so far this year. A new Greek stock exchange-traded fund that launched last December, the Global X FTSE Greece 20 ETF (GREK), is up nearly 40% in 2012.
National Bank of Greece is the largest holding in the fund, but it also includes the Athens-listed shares of companies such as bottler Coca-Cola Hellenic and Greek gambling firm OPAP.
Of course, the rally in Greek stocks comes off a highly depressed base. The Athens Stock Exchange tumbled more than 50% in 2011. As long as Greece can avoid default, Greek stocks, and for that matter other European stocks, should rebound a little.
The ECB has helped matters by giving banks cheap three-year loans that some banks appear to have used to buy up the sovereign debt of some of the most problematic European nations. Credit contagion fears have diminished somewhat as a result.
"Despite the day to day noise on Europe, the market believes policies are in place to put a fence around the sovereign debt problems," said Doug Cote, chief market strategist for ING Investment Management in New York.
That may be true. The austerity measures that need to be put into place in Greece and other eurozone nations may cut debt in the long-term. But it will come at the expense of economic growth in the short-term.
The global economy is still in a fragile state. In fact, a key (albeit admittedly wonky) measure that tracks international shipping prices for various commodities known as the Baltic Dry Index is hovering near a 25-year low.
Shipping is an extremely important part of the Greek economy. Shares of several Greek freight companies, such as DryShips (DRYS), Navios Maritime Holdings (NM), Diana Shipping (DSX) and Paragon Shipping (PRGN), have started to bounce back this year after a disastrous 2011 on hopes of a global economic rebound.
But if the BDI, which rose on Tuesday for the first time in more than a month, continues to remain near multi-decade lows, then that could be more troubling news for the shippers and the Greek economy.
"Greece is highly dependent on shipping from an employment perspective. It's hard to be confident," said Dimitri Papadimitriou, president of the Levy Economics Institute at Bard College in Annandale-on-Hudson, N.Y. "Greece and the rest of Europe should have just anemic economic growth. After a while, the markets may not view that as substantial progress."
Greece can't afford any more bad breaks right now. The worst may be over. But that doesn't mean it's time to sound the all-clear signal for Greece.
"The reason there is optimism about Greece is that leaders are moving towards solving something," said Michael Bapis, managing director and partner at the Bapis Group of HighTower Advisors, a financial services firm in New York.
"But this is just the beginning of fixing the problem," he added. "A lot of work has to be done."
And it's also important to note that any deal with the troika could be met with resistance in Greece, particularly if even stricter government spending cuts are proposed.
"It's a cautious euphoria because investors are only looking at the short-term. Of course, there should be an agreement between the troika and the Greek government," Papadimitriou said. "But you can't assume that a Parliament that is in disarray will approve more austerity measures."
In other words, let's not bust out a celebratory shot of ouzo just yet.
Best of StockTwits: Shuffle off to Buffalo .. Wild Wings? The casual dining chain with a sports bar theme reported great earnings after the bell Tuesday. Its stock shot up 15% Wednesday to a new all-time high.
firstadopter: Basically all funds that shorted $BWLD on rising chicken wing costs are getting gutted by the category killer roll-out with great execution
OptionsHawk: If it has a high short float ($CSTR $NFLX $OPEN $BWLD) - you want to be long into earnings.....
Both nail it here. Buffalo Wild Wings (BWLD) does have its share of skeptics. And with good reason. The stock trades at 25 times earnings estimates, a pretty penny for a restaurant stock. But sometimes a company deserves a high valuation if it keeps putting up good numbers. So far, B-Dub is doing just that.
A quick aside on OpenTable though. As OptionsHawk pointed out, Coinstar (CSTR) and Netflix (NFLX) also rallied on short squeezes. But OpenTable (OPEN), which initially rose after hours Tuesday following earnings, fell 12% Wednesday once investors realized guidance was weak. That's key. Shorts will only cover on good news, not bad.
HedgeyeHWP: $BWLD is giving away food to get people in the door - that is why there is no leverage on 8.9% SSS... this too shall pass
That is the main argument for the shorts. This may be a fad stock that can't sustain the strong sales growth. The shorts may be right. But bears have been saying similar things about Chipotle (CMG). And it continues to defy all the nay-sayers.
The opinions expressed in this commentary are solely those of Paul R. La Monica. Other than Time Warner, the parent of CNNMoney, and Abbott Laboratories, La Monica does not own positions in any individual stocks.