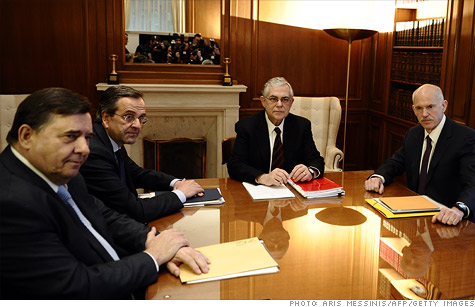 Greek Prime Minister Lucas Papademos meets with officials from the nation's main political parties to hammer out reforms needed to secure more bailout money.
NEW YORK (CNNMoney) -- Officials in Greece are under pressure to reach an agreement on a new bailout package, as the threat of a default hangs over the country.
Prime Minister Lucas Papademos met with officials from the European Union, International Monetary Fund and European Central Bank Monday to try and hammer out the details of a €130 billion bailout deal.
Greece needs the money to avoid an all-but-certain default on a €14.5 billion bond redemption in March. The concern is that a so-called disorderly default could force Greece out of the euro currency union and shock the global financial system.
Papademos must also convince the leaders of Greece's three main political parties to back a package of fiscal and economic reforms that are a condition of the bailout.
The party leaders agreed over the weekend on the "main elements" of the program, including a plan to reduce public spending by 1.5% of gross domestic output this year, according to Papademos.
But talks scheduled for Monday were pushed back to Tuesday amid apparent disagreements over additional job and salary cuts, as well as pension reforms and tougher tax enforcement.
Greece, which owes some €330 billion, has come close to default before.
The nation has struggled to follow through on austerity measures and economic reforms that were a condition of its 2010 bailout package. But the nation's economy has been in recession for years and many analysts warn that additional austerity could make the situation worse.
EU leaders have been sounding increasingly frustrated with the lack of progress in Greece.
French President Nicolas Sarkozy said Monday that failure was not an option for Greece, adding that "considerable measures" have been put in motion to help the nation "out of the situation it finds itself in today."
"But the Greek leaders have made commitments and they must respect these scrupulously," he said. "There is no choice, there is no choice."
EU finance ministers are widely expected to hold an "extraordinary" meeting sometime this week, although no official date has been set.
Meanwhile, Greece appears close to a deal with its creditors in the private sector to write down a portion of the nation's debt.
The agreement, which would result in significant losses for bondholders, is intended to help reduce Greece's debts to 120% of GDP by 2020, from about 160% currently.
The worsening Greek economy has raised calls for the nation's creditors in the "official sector" to provide some relief.
The European Central Bank, which holds an estimated €30 billion to €45 billion of Greek debt, is under pressure to forego profits on those bonds, as are individual euro area central banks.
In the bond market, yields on short-term debt issued by Greece and Portugal, another troubled economy, rose near record highs. But yields on similar Italian and Spanish bonds were little changed.
-- CNN's Elinda Labropoulou contributed reporting from Athens.