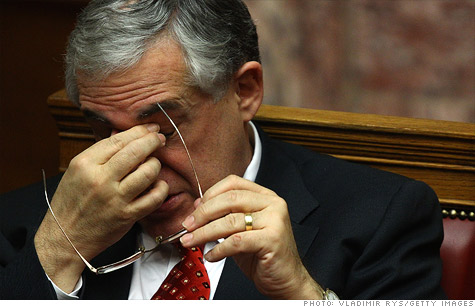 Greek Prime Minister Lucas Papademos and other leaders agreed to austerity measures ahead of a meeting later Thursday of eurozone finance ministers.
NEW YORK (CNNMoney) -- Greek political leaders agreed to a package of austerity reforms Thursday, marking the first step toward securing much-needed bailout funds.
Greek Prime Minister Lucas Papademos said in a statement that there was "general agreement" on measures aimed at cutting public spending.
The reforms are a precondition for Greece to receive a second bailout worth €130 billion from the European Union, International Monetary Fund and European Central Bank, known as the troika.
Greece needs to secure the bailout funds soon to avoid a potential default on a €14.5 billion bond redemption in March.
Greek Finance Minister Evangelos Venizelos was due to present the agreement to a meeting of euro area finance ministers taking place Thursday in Brussels.
"After a long, tough period of negotiations, we have finally a staff level agreement with the troika for new, strong and credible program," Venizelos said before entering the meeting.
He added that a deal has been reached on the "basic parameters" of a deal with private sector creditors to write down a portion of the nation's debt.
"We need now the political endorsement of the Eurogroup for the final step," Venizelos said.
However, the president of the Eurogroup, Jean-Claude Juncker, downplayed the prospects for a swift resolution.
"I don't think that we'll have a definite and final decision tonight," Juncker said before entering the meeting, adding that "several elements" still need to be reviewed. "This is not a disaster, the debate has to be continued."
The austerity program also needs to be approved by the Greek Parliament, which is expected to vote on it this weekend.
The measures are expected to include job and wage cuts, as well as pension reforms and other unpopular moves. Greek labor unions have waged protests against the measures this week and the issue has become politically charged ahead of planned elections in April.
While the agreement clears a significant political hurdle, Greece still faces major economic and financial challenges.
Greece, which owes some €330 billion, has come close to default before.
The nation has struggled to follow through on austerity measures and economic reforms that were a condition of its 2010 bailout package. At the same time, the Greek economy has been in recession for years and many analysts warn that additional austerity could make the situation worse.
Greece has come under fire recently from top EU officials for the government's lack of progress on policies aimed at boosting the nation's economy.
"Greece hasn't done up till now what the IMF has asked it to do," German Finance Minister Wolfgang Schaueble told CNN's Diana Magnay Wednesday. "No more promises, now they have to deliver."
Greece also appears close to a deal with its private sector creditors to write down a portion of the nation's debt.
The agreement, which would result in significant losses for bondholders, is intended to help reduce Greece's debts to 120% of GDP by 2020, from about 160% currently.
The worsening Greek economy and signs the nation will not meet its fiscal targets have raised calls for the nation's creditors in the "official sector" to provide some relief.
The European Central Bank, which holds an estimated €30 billion to €45 billion of Greek debt, is under pressure to forego profits on those bonds, as are individual euro area central banks.
But the central bank's president, Mario Draghi, rejected calls for the ECB to take part in a restructuring.
"Everybody has been talking about what the ECB would do or not do," Draghi said during a press conference Thursday. "But the ECB didn't say anything."
Draghi said providing funding for Greece under a bailout program would be a violation of the central bank's mandate, which prohibits it from subsidizing government finances.
"It's not our intention to violate the monetary financing prohibition," he said.
-- CNN's Elinda Labropoulou contributed reporting from Athens and Per Nyberg contributed from London.