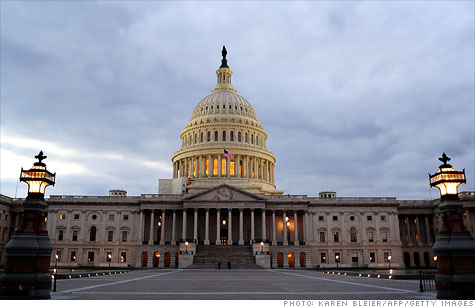 The House and Senate passed diverging versions of a bill to ban insider trading by members of Congress earlier this month.
NEW YORK (CNNMoney) -- It should be a no-brainer: a popular bill with bipartisan support that bans insider trading by members of Congress.
The legislation is known as the Stop Trading on Congressional Knowledge Act, or the Stock Act. It gained momentum last year after an explosive 60 Minutes report that accused several prominent representatives of insider trading using government information. President Obama urged the bill's passage in his State of the Union address last month.

Now, however, the bill is stuck in part due to a disagreement over a provision that requires so-called "political intelligence" professionals to register with the government and disclose their activities in the same way that lobbyists do.
The disagreement puts the spotlight on an industry that has previously escaped the notice of most Americans. But despite its relatively low profile, political intelligence is big business.
Political intelligence professionals get paid big bucks to gather information about government policy and pending legislation, often through lawmakers or other public officials. Their clients include hedge funds, mutual funds, pension funds and wealthy individuals who use the information to guide investment decisions.
Under one version of the Stock Act, political intelligence practitioners would have to reveal who their clients are, how much they get paid for their research, and what issues they're hired to gather intelligence on.
"If you seek information from Congress in order to make money, the American people have a right to know your name and who you're selling that information to," Senator Chuck Grassley of Iowa said in congressional debate earlier this month.
The idea is that shining a light on the industry will help ensure that such firms are confined to objective research and analysis and are not simply providing insider trading tips based on government knowledge.
Amazingly, there are no clear prohibitions on these kinds of insider tips at the moment.
The Senate passed a version of the Stock Act by a margin of 96-3 that included the registration requirement. The House version sailed through last week with similar support -- a 417-2 vote -- though it scrapped the registration requirement and called only for a government study of the political intelligence industry.
Even without the political intelligence provision, the Stock Act would prohibit Congressmen and other federal employees from exploiting non-public government information or using it to tip off others, and would require them to report investment transactions within 30 days.
Rep. Louise Slaughter told a congressional committee in December that the political intelligence industry brings in $100 million a year in the U.S., and Mayhew estimated that there are roughly 300 firms worldwide providing political intelligence and policy research.
"Political intelligence firms have increasingly become an issue -- they have proliferated -- and I think part of the issue here is that until the Stock Act, most Americans didn't even know about the political intelligence industry," said Melanie Sloan, executive director of the progressive watchdog group Citizens for Responsibility and Ethics in Washington.

The political intelligence field bears some similarities to so-called "expert networking" firms in the corporate world, which connect hedge funds and mutual funds with consultants who provide insight about particular companies.
While such firms offer legitimate market research, some have also been accused of passing non-public, inside information to clients as part of the government's ongoing crackdown on insider trading at hedge funds.
"There is an increasing problem with Wall Street recognizing that they can get inside information not just from corporate insiders, but from the government," Sloan said.

Some in Congress worried that the political intelligence registration requirement was drafted too broadly and required further study. Laena Fallon, a spokeswoman for House Majority Leader Eric Cantor, said in an email that it could affect a range of people from "local rotaries to national media conglomerates."
But Grassley, who added the registration requirement to the Senate bill, called it "astonishing and extremely disappointing that the House would fulfill Wall Street's wishes by killing this provision." Grassley's amendment passed the Senate by a vote of 60-39, and included an exception for journalists "disseminating news and information to the public."

"If Congress delays action, the political intelligence industry will stay in the shadows, just the way Wall Street likes it," the senator said in a statement.
Looking ahead: A spokeswoman for the Senate's Governmental Affairs Committee said staffers were unsure of when the two congressional chambers would resolve their disagreement and when the Stock Act might be finalized.
Should the registration requirement go into force, hedge funds and other political intelligence customers who don't want their identities disclosed may pull back from such services, Mayhew said.
Yet even if it passes without the registration requirement, the Stock Act will still likely have an impact on political intelligence firms, as it will become illegal for them to pass on non-public information gleaned from government officials.
Just as they did during the expert networking crackdown, Wall Street firms will have to beef up their internal regulations to make sure they don't receive non-public information in the guise of legitimate research, Mayhew said.
"The information will continue to be extremely important, but ultimately, they're going to be a lot more careful about how they use it," he said.