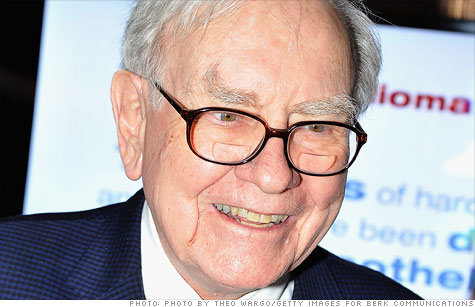 Warren Buffett attends the grand re-opening of Jay-Z's 40/40 Club in New York last month.
NEW YORK (CNNMoney) -- Warren Buffett's Berkshire Hathaway has doubled down on its tech holdings while also acquiring new stakes in entertainment conglomerate Liberty Media and dialysis treatment provider Da Vita.
Berkshire now holds 1.7 million Liberty Media (LMCA) shares and 2.7 million Da Vita (DVA, Fortune 500) shares, according to documents filed Tuesday. Those stakes were worth roughly $133 million and $204 million, respectively, at the end of December.
The company also upped its stake in Wells Fargo (WFC, Fortune 500), now holding more than 7% of the banking giant, and sold its small stake in Exxon Mobil (XOM, Fortune 500).
Buffett's firm has traditionally avoided tech stocks, but in November, Berkshire surprised some observers by announcing new purchases of shares in Intel Corp (INTC, Fortune 500)., DirecTV (DTV, Fortune 500) and IBM (IBM, Fortune 500) during the third quarter. Berkshire bought more than 57 million shares of IBM alone, enough to make it one of the largest investors in the so-called Big Blue.
Berkshire (BRKA, Fortune 500) increased its holdings of all three firms last quarter, Tuesday's filing showed.
It now owns nearly 64 million IBM shares, while its Intel holdings increased by more than 2 million shares. Its DirecTV stake more than quadrupled, shooting up by nearly 16 million shares, and was worth $870 million at year's end.
Buffett's firm also reduced its stakes in Kraft Foods (KFT, Fortune 500) and Johnson & Johnson (JNJ, Fortune 500). Overall, Berkshire held $66.2 billion in common stock at the end of the fourth quarter, with almost all of it in U.S. companies
The stock holdings list does not include companies that Berkshire now owns in their entirety, such as insurer Geico or chemical company Lubrizol Corp. It also does not include preferred shares or warrants, such as the $5 billion of such holdings from Bank of America (BAC, Fortune 500) that Berkshire bought last year.