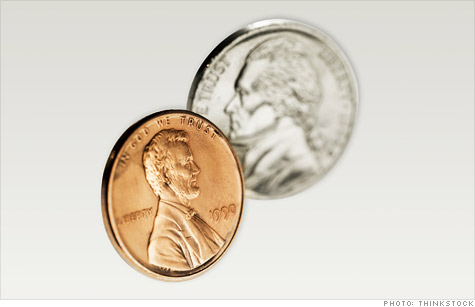 Treasury is looking at changing the mix of metals used to make pennies and nickels in a cost-savings effort.
NEW YORK (CNNMoney) -- The U.S. Mint is facing a problem -- especially during these penny-pinching times. It turns out it costs more to make pennies and nickels than the coins are worth.
And because of that, the Obama administration this week asked Congress for permission to change the mix of metal that goes to make pennies and nickels, an expensive recipe that has remained unchanged for more than 30 years.
To be precise, it cost 2.4 cents to make one penny in 2011 and about 11.2 cents for each nickel.
Given the number of coins that the mint produces -- 4.3 billion pennies and 914 million nickels last year alone, those costs add up pretty quickly: a little more than $100 million for each coin.
But even though Treasury has been studying new metals since 2010, it has yet to come up with a workable mix that would definitely be cheaper, and it has no details yet as to what metals should be used or how much it would save to do so.
Even if a cheaper metal can be used, it might not take the cost of a penny down to less than a penny.
Just the administrative cost of minting 4.3 billion pennies costs almost a half-cent per coin by itself, leaving precious little room to make a penny for less than a cent, no matter the raw material used.
The raw material cost of the metals used in a current penny is only about 0.6 cents per coin, according to prices quoted on the London Metal Exchange, and a breakdown of a penny's composition from the mint. The mint paid 1.1 cents on average for the metal used in a penny in 2011, but that is the cost of ready-to-stamp blanks from the supplier, not raw material traded on commodity markets.
There have been times in recent years when a run-up in zinc and copper prices has taken the raw material value of a penny above one cent.
That's the case for a nickel today. Its more expensive metal mix means the raw materials in each are worth almost 6 cents per coin, based on current market prices. (States eye silver and gold currencies)
Despite popular belief, since 1982 pennies have only been copper plated, not copper through and through. Much less expensive zinc makes up 97.5% of the mass of a penny, the rest is a copper coating.
Nickels actually have much more copper in them -- 75% copper and 25% nickel. It's the same mix they have always had except for the World War II years, when silver and manganese replaced the nickel and some of the copper. (see correction below)
The mint did make steel pennies for one year -- in 1943 -- when copper was needed for the war effort. And steel might be a cheaper alternative this time. Steel is roughly one-quarter the price of zinc on the London Metal Exchange.
Treasury had already made a cost-saving move in December when it stopped making dollar coins.
With 1.4 billion surplus presidential dollar coins sitting in bank vaults waiting to be circulated, and American consumers showing little appetite to start using the coins, Treasury estimates the halt in production of the coins will save about $50 million a year.
Treasury spokesman Matt Anderson said Treasury has the authority to stop making the dollar coins on its own, but it can't change the mix of metals in pennies without permission.
As for the suggestion of some that the penny be abandoned altogether, Anderson said only "that is not a proposal we have put forward."
Correction: An earlier version of this story did not mention the World War II exception to the nickel's composition.