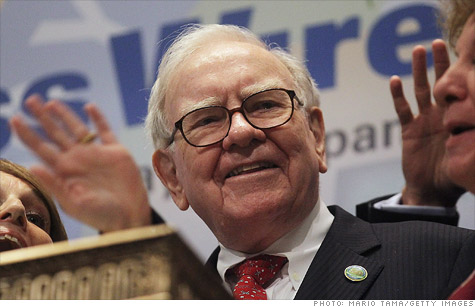 Some investors figure that since Warren Buffett's Berkshire Hathaway already owns a railroad and a utility, why not a coal company?
NEW YORK (CNNMoney) -- A lump of coal in your stocking is not considered a good thing. But a lump of coal stocks in your portfolio could be lucrative if you buy into the latest Wall Street gossip about Warren Buffett.
Coal stocks have been picking up steam (Get it? Choo Choo!) on chatter that Buffett's Berkshire Hathaway (BRKB) may want to buy a coal miner. The Market Vectors Coal Index (KOL) exchange traded fund gained 2% Thursday and rose another 1% Friday.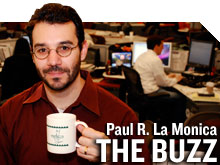 Several of the individual miners, such as Peabody Energy (BTU, Fortune 500), Patriot Coal (PCX) and Alpha Natural Resources (ANR), did even better than the ETF Thursday and were outperforming it again Friday.
Berkshire Hathaway did not return calls for comment about the rumors. But should investors really be buying coal stocks on this speculation?
Probably not. For one, these rumors are hardly new.
Ever since Berkshire (BRKA, Fortune 500) bought railroad giant Burlington Northern Santa Fe in November 2009 for $44 billion -- Buffett's famous "all-in wager on the economic future of the United States" -- investors have thought that a coal deal would be a natural since the railroad and coal businesses are closely linked.
The merger chit-chat resurfaced about a year later after Buffett made a surprise visit with his billionaire bridge buddy Bill Gates to a mine in Wyoming owned by Arch Coal (ACX). Following the visit, Buffett described the trip as "fascinating" -- which many eager investors interpreted as code for "Berkshire wants to buy a coal company."
So it's probably not a big surprise that Arch was one of the biggest gainers among the coal stocks Thursday. It surged 8% and was up another 2% Friday.
The other reason that many Buffett watchers think a coal deal is inevitable is because Berkshire already owns MidAmerican Energy, a large utility company that uses coal.
But Matt Dougherty, managing director at Chicago-based money management firm Advisory Research points out that low natural gas prices have been hurting coal companies lately. And since Berkshire owns a utility, Buffett is probably keenly aware of that fact.
It's also worth noting that despite all the rumors, Berkshire has yet to invest in the sector directly.
"I would be very surprised if Berkshire bought a coal company. This might make sense as a contrarian play, but Buffett has never invested in coal," Dougherty said.
Instead, Buffett has lately bet more on financials like Bank of America (BAC, Fortune 500) and Wells Fargo (WFC, Fortune 500). He even has dipped his toe into tech, with investments in IBM (IBM, Fortune 500), Intel (INTC, Fortune 500) and DirecTV (DTV, Fortune 500) (Welcome to the 21st century! Or should I say latter part of the 20th century?)
If Berkshire were that interested in coal, you'd think that Buffett would at least, uh, send a canary into the coal mine by purchasing a small stake in a miner before he decided to spend a few billion on an entire company.
After all, Berkshire owned stakes in BNSF -- as well as railroad rivals Union Pacific (UNP, Fortune 500) and Norfolk Southern (NSC, Fortune 500) -- before it acquired all of BNSF. Once Berkshire completed its deal for BNSF, it then sold off its shares in Union Pacific and Norfolk Southern.
So if you are investing in coal stocks just because you think Buffett is about to acquire one, prepare to be burned.
"Buying a coal company does not make any sense for Buffett. The industry is highly dependent on volatile commodity prices. Berkshire has invested in major oil companies before but that's because they are more diverse," said Michael Tian, an analyst who covers coal stocks for Morningstar in Chicago.
And it's not as if Buffett is that bullish on energy right now anyway. According to Berkshire's most recent filings, the company sold its stake in Exxon Mobil (XOM, Fortune 500) at the end of last year. The only big oil firm it now owns is ConocoPhillips (COP, Fortune 500).
Tian also said he's worried about the fundamentals for coal stocks right now because of declining coal prices.
"It will be very hard for coal companies to make a lot of money in this environment," he said.
In fact, several big coal companies are expected to report lower profits in 2012 than they did in 2011, including Arch Coal, Peabody and CONSOL Energy (CNX, Fortune 500). And some, such as Alpha Natural Resources and Patriot Coal, are actually forecast to post losses.
Sure, Buffett loves a good value stock. But he usually likes to buy businesses that are profitable and growing. And by the way, do you know how many times Buffett mentioned coal in his latest annual shareholder letter?
That would be zero.
Best of StockTwits and reader comment of the week: Do bank stocks have nowhere to go but up following the stress tests?
simonsays452: Stress Tests are Self-fulfilling $BAC $JPM
Market_Bull: Yeah, $BAC is up 66%, but it's still trading below book value. #bankofamerica
Yes. BofA (BAC, Fortune 500) is still cheap. But investors have to differentiate between the banks that did really well and the ones that topped low expectations. JPMorgan Chase (JPM, Fortune 500) raised its dividend and is buying back stock. That's healthy. BofA still has a penny-per-share dividend. It got the equivalent of a "gentleman's C" from the Fed.
zerohedge: Line of 500 banks in front of the Fed store, waiting for THE NEW QE $AAPL
It is probably not humanly possible to be more bearish than zerohedge. But I also worry that the big rally in banks (and the overall market) may be predicated on the hope of more Fed stimulus that will never arrive.
Speaking of camping out in front of retailers, you may have heard that some new tablet thingy went on sale Friday?
Shares of Apple (AAPL, Fortune 500) briefly topped $600 a share by the slightest of margins Thursday on iPad hype. They have since pulled back, prompting me to tweet the following question: "All right. Who's the poor sap who bought $AAPL at $600.01?"
The response from @MNYCx -- whose awesome Twitter profile reads "Stocks/ Options, Sex and Rock & Roll" -- wins reader comment of the week.
"John Paulson?"
Hilarious. I doubt it's true though. But given how awful a year Paulson's hedge fund had in 2011, if he did buy at $600, then maybe that will wind up being the peak for Apple.
The opinions expressed in this commentary are solely those of Paul R. La Monica. Other than Time Warner, the parent of CNNMoney, and Abbott Laboratories, La Monica does not own positions in any individual stocks.