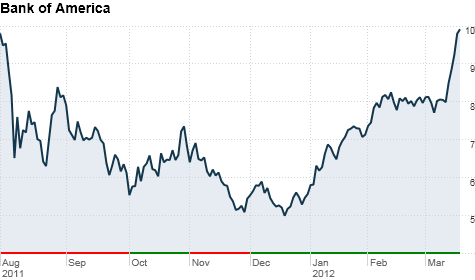 Click chart for more on Bank of America.
NEW YORK (CNNMoney) -- Bank of America's stock topped $10 a share for the first time in over seven months early Monday, just days after the bank successfully passed the Federal Reserve's "stress tests."
But the stock came under pressure in the afternoon amid speculation that BofA was planning to raise money by issuing stock in a secondary offering. Shares ended the day at $9.53 a share.
After the market close, though, a BofA spokesman said the bank has "no intention has no intention of issuing additional equity in a secondary offering" and its stock rebounded nearly 2% in extended trading.
BofA's stock has been on a tear since the Fed announced last week that 15 of the nation's 19 largest banks, including BofA, had passed its latest round of stress tests.
The stock has gained over 20% since the results were released.
The tests were designed to asses whether big banks could withstand a severe financial crisis: an unemployment rate of 13%, a 50% decline in stock prices and another 21% drop in housing prices.
Based on the Fed's analysis, BofA would face potential losses of $50 billion.
The results gave investors "a number around what the net losses for BofA could be in worst case scenario," said Marty Mosby, an analyst at Guggenheim Securities.
That helped push Bank of America's (BAC, Fortune 500) stock above the $10 mark -- the first time the stock has traded above that level since Aug. 1, 2011.
Investors had been struggling to determine how much BofA stood to lose and had "arrived at a much larger number" than what the Fed's test indicated, said Mosby.
But the stress tests cleared up the uncertainty "and gave us a number we can believe in," he added.
However, analysts said the move to $10 a share reflects a technical readjustment of BofA's "tangible book value," a measure of what the stock would be worth if the company was liquidated.
Many investors had been estimating BofA's tangible book value to be closer to $13 a share. And some analysts say BofA's stock still has more room to grow.
The stock will probably move back above $10 a share later this year, and will eventually return to the $30 to $40 a share range, said Dick Bove, an analyst at Rochdale Securities.
Bove said BofA is well-positioned to grow earnings over the next few years as the housing market recovers and the economy strengthens. In addition, he said the bank will benefit as interest rates rise from current low levels and legal costs associated with the mortgage crisis get resolved.
After sinking below $5 a share last year, shares of BofA have gained nearly 80% so far in 2012.
The gains come as shares of many big U.S. banks, among the worst performers last year, have rebounded. JPMorgan Chase (JPM, Fortune 500), Wells Fargo (WFC, Fortune 500) and Citigroup (C, Fortune 500) have also regained significant ground this year.