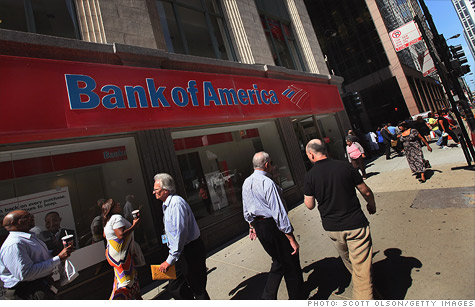 Bank of America reversed a year-earlier loss, helped by increasing loan volume.
NEW YORK (CNNMoney) -- Bank of America reported a fourth-quarter net income of $2 billion, reversing a year-earlier loss, and revenue that topped expectations.
Investors cheered the results.
Bank of America's (BAC, Fortune 500) shares, which had declined more than 60% in 2011, rose 4% to $7.08 Thursday. That's up nearly 46% from its lows a month ago when the stock dipped below $5. But it's still far off its 52-week-high of $15.16.
The Charlotte, N.C., bank posted earnings per share of 15 cents, compared with a loss of 16 cents per share in the year-earlier quarter, and right in line with analyst forecasts.
Bank of America's fourth-quarter revenue jumped 11% to $25.1 billion, beating analysts' expectations of $24 billion.
Chief Executive Brian Moynihan said the strong quarter reflected "a gradually improving economy."
That translated to a boost in lending volume, with commercial and industrial loan balances rising 13% in the fourth quarter.
The earnings report also included a spate of one-time revenue gains, including $2.9 billion from Bank of America's sale of its stake in China Construction Bank and $2.4 billion from sales of preferred shares and debt.
The bank also incurred significant one-time losses, including stowing away $1.5 billion as a reserve for potential litigation costs arising from lawsuits related to troubled mortgages. However as the litigation is ongoing, that $1.5 billion is merely an estimate, Moynihan said during the fourth-quarter conference call.
Bank of America also reduced its exposure to the sovereign debt of Portugal, Ireland, Italy, Spain and Greece to $14.4 billion by Dec. 31, down nearly 9% from a year earlier.
Still, like other major banks, Bank of America said revenues in trading and investment banking declined in the fourth quarter, primarily due to market conditions.
Bank of America also reduced its headcount by roughly 9,000 employees since announcing in September that it planned to cut roughly 30,000 employees or 10% of the firm's staff.
As of Dec. 31, Bank of America said it had 281,791 employees down 7,000 from its third quarter, when the bank said it had cut 2,000 positions. On the conference call, Moynihan said the bank spent $239 million on severance costs in the fourth quarter, up 28% from the third quarter.
For the full year, Bank of America generated net income of $1.4 billion, compared with a 2010 loss of $2.2 billion. Full-year revenue dropped 15% to $94.4 billion in 2011. Full-year profits beat expectations, but the bank missed analysts' revenue forecasts.
Early Thursday, Morgan Stanley reported a loss that wasn't as bad as expected, sending its stock up 5%.
The results are the latest in a string of mixed reports from big Wall Street banks. Goldman Sachs reported mixed results that came on the heels of disappointing results from rivals Citigroup and JPMorgan Chase. Wells Fargo (WFC, Fortune 500)'s results beat expectations.
Shares of Goldman Sachs (GS, Fortune 500), Citigroup (C, Fortune 500), JPMorgan Chase (JPM, Fortune 500) and Wells Fargo gained between 1% and 3% Thursday.