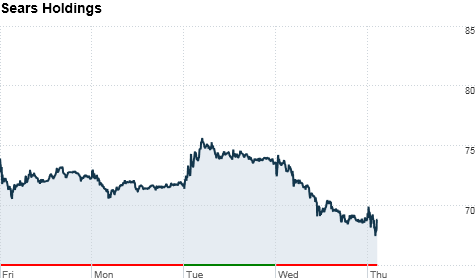 Click chart for more on Sears.
NEW YORK (CNNMoney) -- Shares of Sears Holdings turned lower Thursday, following news that the retailer is considering selling Lands' End.
After nudging higher at the open, Sears (SHLD, Fortune 500)' stock slid 77 cents, or 1.2%, to $68.22 a share. Still, the stock has had a great year so far. It's up 117% from January, making it the top performer in the S&P 500.
The New York Post reported Thursday that Sears chairman Eddie Lampert has approached "a handful" of private-equity firms about buying Lands' End as part of a plan to raise up to $2 billion in cash.
A Sears spokeswoman said the company does not comment on "rumors and speculation."
Sources told The Post that Goldman Sachs (GS, Fortune 500) is likely to "run the sale." In addition to Lands' End, Sears also owns Kmart, Kenmore and Craftsman.
The report comes weeks after Sears disclosed a massive fourth-quarter loss and unveiled a new turnaround plan.
Sears said last month that it plans to sell another 11 stores, spin off its Sears Hometown, its outlets and some hardware stores, as well as reduce inventories.
Combined, those moves are expected to strengthen Sears' balance sheet by about $1 billion. That's on top of the $3.2 billion the retailer already has, in addition to $1 billion through credit facilities and $760 million in second lien capacity.
In December, Sears had announced it would close up to 120 Kmart and Sears stores and reduce inventories by $580 million.
Sears is scrambling to raise cash amid declining profits and sales growth.
In the fourth-quarter, Sears reported sales at stores open at least a full year -- a metric known as same-store sales -- declined 3.4%, mostly due to weak sales in consumer electronics and appliance.
The company's straits have raised some speculation that Sears could fall into bankruptcy.