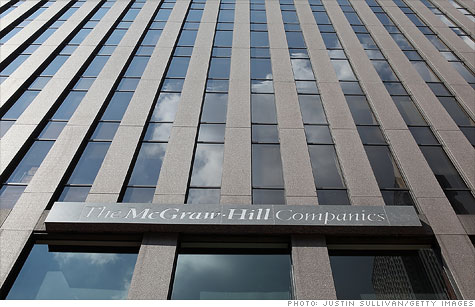 McGraw-Hill is one of many companies considering buyout of a division because of renewed interest from private equity firms.
NEW YORK (CNNMoney) -- The private equity buyout market is back!
A combination of the hot stock market and interest rates near all-time lows has created the perfect conditions for many public companies to put "for sale" signs up in hopes of enticing private equity attention.
"Companies don't want to miss the window," said Richard Farley, a partner at the law firm Paul Hastings. "There's a worry that interest rates could go up, or there could be a reticence to lend, or equity values could take a tumble."
McGraw-Hill (MHP, Fortune 500) is the latest company to jump into the fray, according to three sources with knowledge of the situation. The company has been talking with potential buyers about starting the auction process for its educational publishing division, which it had been planning to spin off.
At the urging of activist shareholders, McGraw-Hill announced last September that it would split into two units. Standard & Poor's and other market analytics companies would remain under the firm's name, while the educational publishing unit that primarily markets school textbooks would be spun off.
With private equity buyers awash in cash, analysts and investment bankers say now is the perfect time for companies like McGraw-Hill to strike.
Private equity firms are sitting on historic levels of cash, raised between 2005 and 2010. And based on promises to investors, that cash must be put to work over the next several years.
In 2006 and 2007, firms spent $405 billion and $381 billion taking companies private. Since then, they've spent less than $100 billion per year, according to research firm Dealogic.
If the stock market continues edging higher, analysts say that 2012 could fall somewhere in between those levels. At the very least, buyouts should top $100 billion.
In addition to the so-called overhang in private equity cash, there are companies that had planned to start auctions in September, but pulled them after problems in Greece and S&P's downgrade of the U.S. government's debt rocked global financial markets.
"Anything that was ready to go in September, October and November was held back after the downgrade and the ensuing market volatility," said Jorge Mora, head of the financial sponsors group at Macquarie Capital. "Now we're seeing those companies come back to market as well as others taking advantage of the market stability."
For example, Goldman Sachs (GS, Fortune 500) and Evercore Partners (EVR), which were retained in September to advise McGraw-Hill on its restructuring, are now talking to buyers about a sale of the publishing unit.
Analysts at Piper Jaffray value the business at roughly $2.7 billion based on projected 2012 earnings and by looking how investors value competitors, such as Pearson (PSO)'s education unit.
A spokesperson for McGraw-Hill declined to comment on any potential sale: "While McGraw-Hill evaluates all options to create shareholder value, the company is fully focused on executing the spin-off and the separation by the second half of the year," the company said.
And McGraw-Hill is just one of a large number of companies hitting the auction block right now.
Chemical company DuPont (DD, Fortune 500) launched a sale of its paint division earlier in the year. It is asking potential buyers to submit second round bids for the division by the first week of April and is expected to see eight private equity firms show up, potentially valuing the unit at $4 billion, according to several sources involved in the process. Credit Suisse (CS) is running the auction. Both Credit Suisse and DuPont declined to comment.
According to published reports, retailers Party City and Savers, as well as Motorola Mobility's (MMI) set-top box business, which is currently owned by Google (GOOG, Fortune 500), are also on the auction block.
The ongoing auctions are attracting lots of attention: "No one is afraid they're selling at the bottom," said Paul Hastings' Farley. "When there's a strategic desire to sell, there's a feeling that now may be the time."