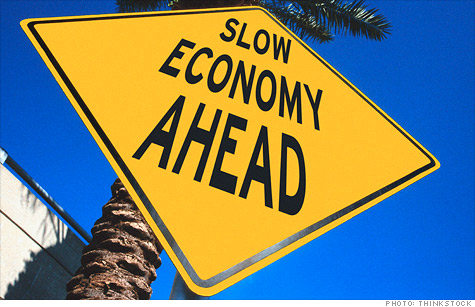 While the economy grew at a 3% rate in the fourth quarter, economists are forecasting slower growth in the first quarter and over next two years.
NEW YORK (CNNMoney) -- U.S. economic growth at the end of last year was as strong as everyone thought, but most economists expect things to slow in the next couple of years.
Gross domestic product, the broadest measure of the nation's economic health, grew at a 3% annual rate in the final three months of 2011, the government said Thursday.
But CNNMoney's survey of economists forecasted that growth will slow to 2.1% in the first quarter of this year and won't pick up significantly from there.
Growth over the course of 2012 is expected to be about 2.5%, and only 2.9% in 2013.
"The data paints a clear picture of an economy that built momentum throughout the course of last year, closing on a high note," said Jim Baird, chief investment strategist for Plante Moran Financial Advisors. "But optimism has waned modestly of late, as economic data has been mixed."
Baird said Europe falling into recession and growing fears of a sharper-than-expected slowdown in China are posing risks for the U.S. economy.
"For the U.S. economy to continue to build from here, it will have to do so without much outside support," he said.
Still, the economists' full-year growth forecasts for 2012 and 2013 are significantly better than 2011 overall. Virtually no growth in the first quarter created only a 1.7% gain over the course of the year.
But the forecast of growth of less than 3% for 2012 is modest by historic standards and not likely to spark significant hiring or business expansion.
The economists expect job growth to slow slightly, ending with a full-year gain of 2.2 million, or an average of 170,000 a month for the rest of the year, down from the average gain of 255,000 during January and February.
The unemployment rate, which fell to 8.3% in February from 9.1% last August, is expected to only modestly improve to 7.9% by the end of this year.
Still, the good news from the survey is that economists are less worried about another recession than they were only three months ago. They cut the chances of a new economic downturn this year to 15% from 20%.
And while the 3% growth rate in the fourth quarter might end up being a high-water mark for the foreseeable future, the 2.1% growth forecast for the first quarter of 2012 might be the low point for growth going forward. Most economists expect growth to be better than 2.1% for the rest of the year, and find it unlikely that 2012 will see a quarter with little or no growth.