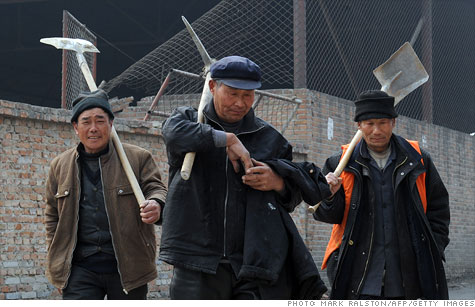 Chinese manufacturing is slowing but the overall economic outlook remains fairly robust, easing worries of a hard landing.
NEW YORK (CNNMoney) -- The high-flying Chinese economy appears to be losing some altitude, but experts say the danger of a hard landing still seems remote.
Thursday's disappointing reading on Chinese manufacturing was just the latest data to take the wind out of the U.S. stock market and pressure prices for industrial commodities.
Investors have been worried that China's economy may be slowing at a faster clip than previously thought.
Shares of U.S. companies that do a lot of business in China bore the brunt, with Caterpillar (CAT, Fortune 500), Alcoa (AA, Fortune 500) and Boeing (BA, Fortune 500) falling sharply.
The Shanghai Composite (SHCOMP) and the Heng Seng (HSI) have both declined more than 1% so far this week.
Crude oil and copper prices have also tumbled this week. Copper, in particular, is considered a barometer of overall economic health because it's used to manufacture everything from pipes for plumbing to cars to semiconductors.
While the Chinese economy is definitely slowing down, concerns about a so-called hard landing may be overdone, said Brian Gendreau, professor of finance at the University of Florida.
"I don't know that this is the clarion call for people to exit their China positions," said Gendreau, who is also a market strategist at Cetera Financial Group. "If they do that, they may find themselves having to buy them back later this year."
Economists expect China's gross domestic product, the broadest measure of economic activity, to grow between 8% and 8.5% this year. That would be down from 9.2% last year and well below the most recent peak of 14% in 2007.
Even a decline to 8% is pretty robust compared with developed economies such as the United States, which is forecast to grow about 1.8% this year.
The Chinese government has taken steps to cool the nation's economy in an effort to combat inflation and deflate a bubble in the property market.
Earlier this month, Chinese Premier Wen Jiabao lowered the nation's GDP target for 2012 to 7.5% from 8%, highlighting the government's focus on more sustainable growth.
Yet the recent spate of less-than-stellar economic news may raise pressure on the Chinese government to move toward more growth-friendly policies.
"The policy bias is clearly towards easing and being more preemptive," said Xian Liang, senior China analyst with U.S. Global Investors. "The government would act before things get worse."
In addition, economist say the slowdown in China is being driven largely by declining exports to the nation's main trading partners, including Europe and the United States.
Thursday's manufacturing report is "reflective of the fact that export growth has declined because of the slowdown around the world," said Jay Bryson, global economist at Wells Fargo Securities.
Official statistics due out next month, which include state-run enterprises, could show a slightly different picture of the Chinese manufacturing sector, he added.
China could also benefit from the gradual recovery of the U.S. economy, which would support Chinese exports. But weakness in Europe will probably remain a headwind for the rest of the year.
Despite those positive trends, the data out of China could continue to disappoint investors and stoke concerns about a hard landing in the near term.
In the first quarter, China's economy is expected to expand 7%, which would be the weakest quarter of the year, according to Barclays Capital's estimates.
While growth is expected to pick up again later in the year, worries about a hard landing could continue to weigh on financial markets over the next few months.
"Whether our base case of a soft landing or the worse case of a hard landing materializes, the risk that investors take fright from a spate of weaker data is material," Barclays analysts said in a report.