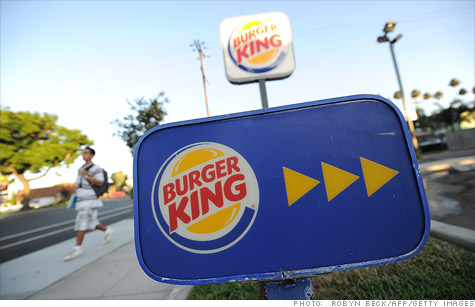 Burger King has roughly 12,500 locations in over 80 countries and territories worldwide.
NEW YORK (CNNMoney) -- The King is coming back to Wall Street.
Burger King is set to return to the public market after its owners sold a 29% stake in the company for $1.4 billion to U.K. investment vehicle Justice Holdings Limited.
The world's second-largest hamburger chain said in a statement Tuesday that it expects to close the transaction and list on the New York Stock Exchange in two to three months.
Under the agreement, New York-based investment firm 3G Capital will remain the company's majority shareholder with a 71% stake after selling 29% to Justice Holdings. 3G Capital acquired Burger King in 2010 in a deal valued at $4 billion.
"We believe that Burger King's aggressive plans for international growth will benefit from its visibility as a NYSE-listed public company," Justice Holdings co-founder Nicolas Berggruen said in the statement.
The announcement came after Burger King revealed a host of new menu items Monday -- including healthier options such as salads, wraps and smoothies -- that it billed as the "broadest expansion of food offerings in [our] 58-year history." The company also unveiled a new ad campaign featuring celebrities such as David Beckham, Jay Leno and Salma Hayek.
Burger King has bounced in and out of the public market in recent years.
TPG Capital LP, Goldman Sachs Capital Partners and Bain Capital Investors took Burger King private in 2002 before going public again in 2006.
Those firms, which owned 31% of Burger King shares, sold their stake to 3G Capital in 2010, which then took Burger King private once more.