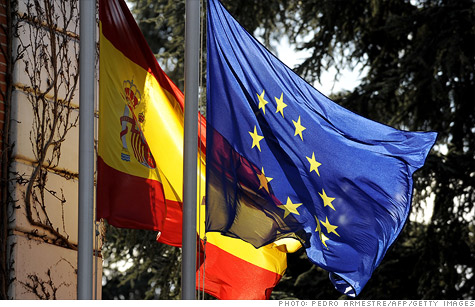 Investors are growing worried about Spain's budget deficit as the nation's economy continues to shrink.
NEW YORK (CNNMoney) -- The debt crisis in Europe may be making a comeback, with a renewed focus on Spain following lukewarm debt auctions.
The Spanish government sold €2.6 billion worth of bonds Wednesday, which came in at the lower end of the estimated range of €2.5 billion and €3.5 billion, analysts said.
Following the auction, the yield on 10-year Spanish bonds jumped to 5.6%, the highest level in nearly three months.
Spain's borrowing costs have risen recently despite a €27.3 billion austerity package announced by the government late last month.
Investors are worried that Spain will struggle to meet its 2012 budget deficit target as the nation's economy is expected to shrink 1.7% this year, according to analysts at Societe Generale.
"Such pressure on yields would undoubtedly revive the scenario in which Spain may become the fourth eurozone country to receive EU assistance," SocGen analysts wrote in a note to clients.
The renewed jitters come after a period of relative calm in eurozone sovereign debt markets following aggressive moves by the European Central Bank to prevent a credit crunch in the banking system.
In addition, investors have been encouraged by the successful restructuring of Greek government debt.
But investors are now questioning whether eurozone governments can take advantage of improved market conditions to institute budget reforms and stimulate economic growth.
There has been significant progress made across the eurozone this year, including labor market reforms in Spain and Italy, notes Berenberg Bank chief economist Holger Schmieding.
Among other positive signs, Schmieding also pointed to the fiscal compact that most European Union leaders have signed and the decision to boost the region's financial firewall to €700 billion.
Still, he acknowledged that worries about Spain and speculation that the ECB could unwind its support measures "have now triggered a new round of market wobbles."
"The risk of a new irrational market panic remains serious," he warned.
Speaking to reporters Wednesday, ECB president Mario Draghi renewed his call for euro area governments to restore fiscal discipline and implement broad-based economic reforms.
"It is up to national policymakers to foster domestic developments which support the competitiveness of their economies," said Draghi.
In addition to "prudent fiscal policies," Draghi said labor and product market reforms are of "crucial importance for the functioning of the euro area economy."
Draghi declined to comment on Wednesday's Spanish debt auction, but he suggested that investors are mainly focused on government reforms. "The markets are expecting these governments to deliver," he said.
The ECB president said it was "premature" to discuss the central bank's so-called exit strategy, adding that ECB policymakers are still assessing the impact of the latest "non-standard" measures.
Meanwhile, the ECB's governing council voted unanimously to hold interest rates at 1%, as expected.
Draghi's comments "confirmed that the central bank is in wait-and-see mode, although with a somewhat more careful eye on inflation risks," said Marco Valli, chief eurozone economist at UniCredit Research.
The ECB expects inflation to remain above its target rate of 2% this year, driven by higher energy prices and taxes, said Draghi.