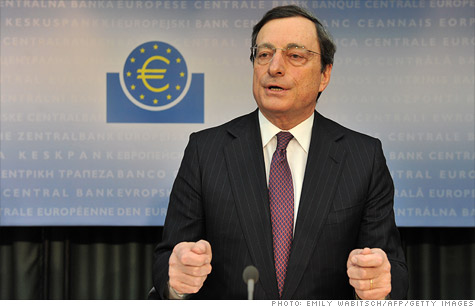 Mario Draghi, president of the European Central Bank, at a press conference earlier this month. The ECB released a second round of low-cost 3-year loans to European banks Wednesday.
NEW YORK (CNNMoney) -- The European Central Bank announced Wednesday that banks borrowed €529.5 billion, or $712.4 billion, under a highly-anticipated lending program aimed at preventing a credit crunch in Europe.
In its second long-term refinancing operation (LTRO), the ECB offered banks unlimited three-year loans at interest rates as low as 1%. The ECB allotted nearly €500 billion in the first round of the operation in December.
The borrowing was a bit more than expected, as banks were expected to have taken up roughly €500 billion, although estimates ranged from €300 billion to €1 trillion.
"It was exactly the right amount," said Tobias Blattner, eurozone economist for Daiwa Capital Markets. "It was not too high so as to raise concern about the health of banks' balance sheets, but at the same time it was not too low to raise concerns about the ability of banks to continue to purchase the bonds of fiscally stressed countries."
The ability of banks to take the ECB funds and purchase the bonds has lowered borrowing costs for Italy and Spain, the two largest economies struggling with sovereign debt problems. That has raised optimism that a full-blown debt contagion in the eurozone can be avoided.
Since the first LTRO, yields on 10-year Italian bonds have dropped to about 5%, down from highs above 7% late last year. Spain's borrowing costs have also backed off last year's highs, holding near 5%.
But banks are under no obligation to use the money for any specific purpose, and it remains to be seen if Italian and Spanish banks will continue to use ECB money to buy government bonds. Blattner said he doesn't think they'll be able to indefinitely maintain the level of purchases made the last two months.
Stocks in Europe were mostly higher after the ECB's announcement. Germany's DAX (DAX) gained 0.5%, while France's CAC 40 (CAC40) rose 0.6%. Britain's FTSE 100 (N100) was just above breakeven.
The ECB announced the operation earlier this year, as part of a series of "non-standard measures" to aid European banks struggling to secure funding amid concerns about exposure to sovereign debt.
The moves are widely credited with helping to mitigate the risk of bank failures in Europe, where the industry is facing record refinancing needs and higher capital requirements this year.
ECB president Mario Draghi has said the main objective is to support the banking sector and boost lending to the "real economy." He has called on euro area governments to reign in spending, and stressed that the ECB is legally prohibited from financing national budgets.
The announcement came a day before European Union leaders gather in Brussels for a two-day summit to determine the size of their financial firewall and discuss the details of a pact on fiscal discipline.