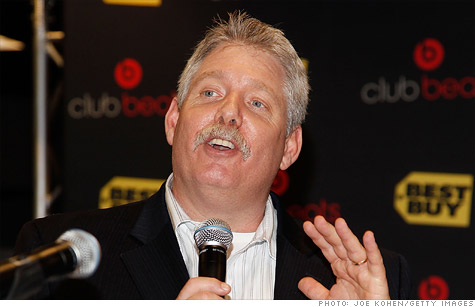 Brian Dunn resigned Tuesday as chief executive of Best Buy after 28 years with the company.
NEW YORK (CNNMoney) -- Best Buy CEO Brian Dunn unexpectedly resigned Tuesday amid an investigation into his "personal conduct," the company acknowledged Tuesday, hours after the initial announcement of Dunn's departure.
"Certain issues were brought to the board's attention regarding Mr. Dunn's personal conduct, unrelated to the company's operations or financial controls, and an audit committee investigation was initiated," said Claire Koeneman, a spokeswoman for the Best Buy board of directors, in an e-mailed statement.
"Prior to the completion of the investigation, Mr. Dunn chose to resign," she added.
In its initial statement, Best Buy said there were "no disagreements" between Dunn and the company, and the decision was mutually agreed upon.
"It was time for new leadership to address the challenges that face the company," Best Buy said in a statement.
Janney Montgomery Scott analyst David Strasser said he was surprised by the move. But the company could benefit from new leadership, particularly from executives with more experience in digital sales, he added.
"They need to bring in some outside blood," said Strasser.
Dunn, who had been with Best Buy for 28 years, said he is leaving the company "in position for a strong future."
"I am proud of my fellow employees and I wish them the best," said Dunn.
G. Mike Mikan, a company director, has been named interim CEO. Mikan said the company is "extremely focused on successfully managing this period of transition."
"I want to assure our employees, customers and other key stakeholders that we will work together to achieve our company's growth and profitability goals," he said.
Dunn's sudden resignation comes weeks after Best Buy (BBY, Fortune 500) unveiled a series of steps to cut costs, including a plan to close 50 big- box stores in the United States by 2013.
At the same time, Best Buy is hoping to regain its competitive edge by expanding in China, shrinking the size of its stores and focusing more on digital sales as consumers move online.
Best Buy has struggled amid growing competition from online retailers, such as Amazon (AMZN, Fortune 500), as well as big-box stores Wal-Mart (WMT, Fortune 500), Target (TGT, Fortune 500) and Costco (COST, Fortune 500).
Shares of Minneapolis-based Best Buy closed 5.8% lower at $21.32 after hitting hit a new 52-week low of $21.22 earlier in the day. The stock has taken a beating over the past year, with shares falling 23%.
In its most recent quarterly report, Best Buy reported earnings that met analysts' expectations, but sales continued to falter. Sales at stores open at least a year -- a metric known as same-store sales -- slid 2.4% during the quarter.
-- CNNMoney's Hibah Yousuf contributed to this report.