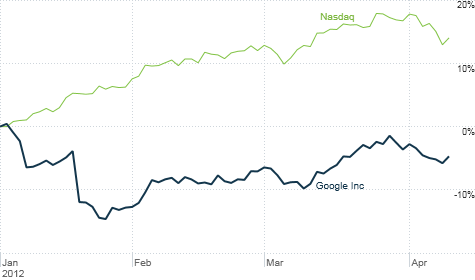 Google has missed this year's tech rally due to an earnings miss in January and concerns about growing competition from Apple and Facebook.
NEW YORK (CNNMoney) -- Is Google's future so bright, it has to wear shades?
While many are still scratching their heads about last week's Project Glass announcement -- those bizarre virtual-reality lenses are not one of Google's typical April Fool's Day jokes -- investors are hoping that Google will wow investors with strong first quarter earnings after the bell Thursday.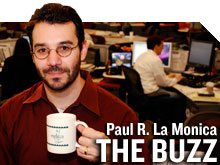 Google reported a rare earnings miss back in January. The stock tanked 8% on the news. But since then, Google's (GOOG, Fortune 500) shares have recovered nearly all those losses and are now just 5.5% below their 52-week high.
A lot is riding on the first quarter results, and not just for Google. Stocks rallied Wednesday after suffering their worst losses since November on Tuesday. That snapped a five-day slump.
The move up was attributed partly to hopes that Alcoa's surprise profit is a good sign for overall corporate earnings. So many tech investors have to be hoping that Google will follow Alcoa's (AA, Fortune 500) lead with better-than-expected results.
But there are many questions facing Google that go beyond the bigger picture for the broader market.
First and foremost, shareholders will be looking for Larry Page (who just celebrated his first anniversary as Google CEO) to talk more about how the company is addressing the growing threat from Facebook.
Facebook, which filed to go public in February and should begin trading sometime next month, has emerged as a legitimate competitor to Google for so-called display advertising -- essentially any graphic-heavy ads that aren't tied to keyword searches.
While Google's own Google+ social network -- which it launched last year -- had 90 million users as of mid-January, many question just how active and/or engaged those users really are when compared to Facebook's more than 800 million users.
Facebook also made a big splash this week with its plan to buy hot photo sharing app Instagram for $1 billion. Depending on who you ask, that deal is either a waste of money/sign of a bubble or a smart strategic move to bulk up in mobile and keep Instagram out of Google's hands.
Some are already suggesting that the Instagram deal could turn out to be as successful as Google's $1.65 billion purchase of online video leader YouTube in 2006. That seems premature. But Google does have to do something more in social media to prove to skeptical investors that Facebook will not eat its lunch.
Page is also likely to face more questions about how Motorola Mobility (MMI) will fit into Google's mobile strategy. The Motorola deal still hasn't closed yet. But it's no secret that what Google really coveted from Motorola was the company's patents, not its hardware.
Along those lines, a report in The Wall Street Journal Wednesday mentioned that rumors are flying in Asia about Google possibly approaching Chinese tech giant Huawei to gauge its interest in buying the Motorola mobile device business. Spokespeople for Google and Huawei both declined to comment on the speculation.
Regardless of what Google does (or doesn't do) with Motorola's Droid line of phones and Xoom tablets, it's clear that Google will need to use the intellectual property assets it inherits from Motorola to step up the development of its Android mobile operating system.
Apple (AAPL, Fortune 500), whose market value briefly rose above the $600 billion level Tuesday, continues to be the favorite mobile horse for the market to bet on thanks to the success of its iPhone and iPad. Apple shares are up 55% this year while Google has missed the market rally. Its stock is down 2%
Now Google is by no means a company in imminent trouble. The good news is that Google is continuing to grow at an enviable clip. Analysts expect first-quarter sales to rise nearly 25% and that earnings per share will be up by 20%. For the full year, Wall Street is predicting revenue growth of 22% and a profit increase of 18%.
Search may be boring compared to social media and mobile devices, but it continues to be enormously lucrative. Compared to struggling smartphone makers Nokia (NOK) and Research in Motion (RIMM) and perennial online advertising turnarounds Yahoo (YHOO, Fortune 500) and AOL (AOL), Google is still a rock star.
But the problem is that Google isn't perceived to be in as strong a position as Facebook and Apple. And that's what is nagging at investors right now.
Google is a company that has been around for less than 15 years. It's only been public for about eight years. But it's trading as if it's some stodgy, "old world" blue chip.
Shares are valued at only 15 times 2012 earnings estimates. That's roughly in line with the broader market even though Google's profits are growing at a much faster rate than the S&P 500.
Heck, there may even be some questions on Thursday's conference call about when Google will pay a dividend now that Apple finally relented to shareholder pressure for one. After all, Google had $44.6 billion in cash as of the end of December.
But if Google wants to reclaim its position as a tech stock leader, Page is going to have to explain how the company plans to become cool again. Clearly, Google is spending a lot to add employees and bulk up on research and development. That's one reason why Google's earnings aren't growing as quickly as its revenues are.
Shareholders won't be happy if that trend continues. Sooner or later, Google has to show that investments will create more products and services that consumers want -- which in turn should lead to higher growth rates.
Creepy glasses that look like they belong in a Philip K. Dick sci-fi short story may not cut it.
Best of StockTwits: Nokia. Enough said.
techinsidr: $NOK will go down as one of the biggest collapses in tech history - spent $30B+ on R&D in last 10 years. Yielded nothing.
SurrealCivic:$NOK in worse shape than $RIMM. Gross Margin on mobile phones 26% and smart phones 16%. Only sold 2 million Lumia devices last quarter.
It's a little early to be writing Nokia's obituary. But yes, the company has to do something to end this cycle of misery. The same is true for RIM, as I pointed out in today's Buzz video.
But at least one wiseacre (not going to use the word that rhymes with lass) mused on Twitter that Nokia's woes could make it an acquisition target for partner Microsoft (MSFT, Fortune 500). Oh yeah. That wiseacre was me.
lamonicabuzz: Either $MSFT picked wrong smartphone horse or Ballmer had evil genius plan for former $MSFT exec Elop to make $NOK so cheap for a takeover.
I'm joking. I think.
Speaking of jokes. Josh Brown is always good for a chuckle or two. Here's one of his comments on Nokia.
ReformedBroker: Nokia is the Police Academy 6 of tech stocks. Don't think too much about it, homeboy. $NOK
Mission to Helsinki? Steve Guttenberg as new Nokia CEO?
The opinions expressed in this commentary are solely those of Paul R. La Monica. Other than Time Warner, the parent of CNNMoney, and Abbott Laboratories, La Monica does not own positions in any individual stocks.