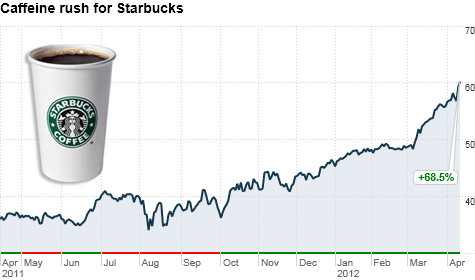 Starbucks is providing a big jolt to many investors' portfolios. And the stock may continue to do well thanks to expansion in China and new product launches.
NEW YORK (CNNMoney) -- Coffee may not technically be one of the key food groups. But you wouldn't know that by looking at shares of Starbucks. Can millions of caffeine-addicted java junkies ... like yours truly ... be wrong?
Starbucks (SBUX, Fortune 500) is trading at an all-time high. It's a stunning comeback for a company that only a few years ago was thought to have lost its way. Shares were trading below $10 right around the time that the overall market was bottoming in March 2009. They are now above $60.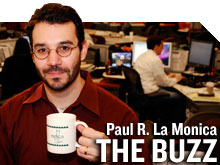 The company has wisely pulled back on the pace of new store openings in the U.S. since founder Howard Schultz reclaimed the CEO spot at Starbucks in 2008. It even closed hundreds of underperforming stores to cut costs.
Over the past few years, Starbucks has made a bigger push into China. It now has 570 stores in 48 Chinese cities. The company recently indicated that it expects China will be its second largest market by 2014 and that it plans to have more than 1,500 stores up in running in China by 2015.
Starbucks has also expanded into the lucrative single-serve coffee market by partnering with Green Mountain Coffee Roasters (GMCR) on Starbucks-branded K-Cups.
However, Starbucks isn't stopping there. In a move that some investors felt was a blow to Green Mountain, Starbucks also plans to start selling its own single-serve machine, dubbed the Verismo, later this year.
Add to that an expanded line-up of Starbucks-branded beverages in supermarkets and it's clear that the company is not content on just relying on sales from its own outlets.
"Schultz has shown, since coming back as CEO, creative and dynamic leadership," said Morris Mark, president of Mark Asset Management, a manager of hedge funds in New York that owns shares of Starbucks.
"The company has moved full bore into consumer products with the single-cup pods and a wider range of offerings at its own stores and grocery stores," he added.
So what does this all mean for the stock? Shares are up 31% this year and now trade at 32 times fiscal 2012 earnings estimates. That's pricey.
But Starbucks might still be worth it. The company is expected to report earnings growth of 22% this fiscal year, which ends in September, and a profit increase of 24% in fiscal 2013.
That's impressive in a sluggish economy. Consumers apparently are still willing to plunk down more than $5 a day to satisfy their Jones for espresso, lattes, chai tea and the like.
"I'm a little surprised by the resilience of Starbucks in tough economic times, given the focus on premium-priced drinks," said Brian Lazorishak, manager of the Chase Growth Fund (CHASX) in Charlottesville, Va. His fund owns the stock.
Of course, there are risks to the Starbucks growth story. Expectations are very high for Starbucks in China. If China's economy slows too quickly, that could be a huge problem for Starbucks. The same can be said about growth in the U.S.
Starbucks has held up well the past few years even though jobs growth has been sluggish. But if the U.S. economy cools off, Mark said that could hit Starbucks.
"Same-store sales have been up at Starbucks up partly because of the better economy. Ultimately, going to Starbucks is a lifestyle choice," Mark said.
And like with any hot stock, be it Starbucks or tech darlings Apple (AAPL, Fortune 500) and Priceline (PCLN), it is prudent to take some money off the table if you've owned the shares for a while.
Lazorishak, who said he bought Starbucks in early 2009 when it was in the single-digits, has sold some this year. It's still a top-ten holding in his fund. But as of the end of last year, the stock was his second largest position.
Nonetheless, investors looking for a rush in their portfolio can probably feel confident with Starbucks as a long-term holding.
After all, Starbucks also isn't the only coffee company trading at a rich valuation. None of the companies in the group are as cheap as the 99 cent coffee you can get at your local deli. They all have valuations that are more Jamaican Blue Mountain than Sanka.
Dunkin' Brands (DNKN) is trading at 26 times earnings estimates for 2012. Caribou Coffee (CBOU) trades at 32 times 2012 profit forecasts while Peet's Coffee & Tea (PEET) is valued at more than 40 times this year's earnings targets.
So Starbucks is trading at a discount to some of its smaller rivals even though it is the clear leader in the group.
"There are not too many companies out there that are growing at this rate. If you can put up 20% earnings growth for the next few years, that warrants a premium multiple," said Lazorishak.
In other words, you can sleep well at night if you own Starbucks. As long as you haven't had too many of their Trenta-sized ice coffees of course.
Best of StockTwits: All is good down on the farm. And investors are excited about a potential way to cash in on Facebook's growth before Facebook goes public.
silverjet2: Tractor Supply $TSCO hikes view, Q1 sales top 1 bln; combine this with US planting data and it all bodes well for Ag sector, Long $MOO $MON
OptionsHawk: $TSCO another strong beat on early Q1 numbers , like clockwork with this Co.
Tractor Supply may be one of the best stories in retail and I'd guess that many people, especially Noo Yawkas and other urbanites with little rural experience, have never heard of it.
But Tractor Supply (TSCO), with more than 1,000 stores selling products to farmers and ranchers, rose 6% Thursday thanks to its strong outlook. Shares are up 40% this year. Green Acres is the place to be if you're a smart investor.
techinsidr: Piper Jaffray on $FIO: "we believe CY12 revenue from Facebook could reach $201M."
abubnic: Fly-on-the-wall is reporting more takeover chatter on $FIO driving stock upward, but they did have a product announcement today.
Fusion-io (FIO) provides storage memory for data centers. It has been a volatile stock since its IPO last year. Facebook is a big customer but there have been some concerns about whether Facebook may shift some business to other vendors. The Piper report seems to be reassuring investors. The stock rose 13% Thursday.
As for takeover chatter, there have been rumors since the IPO. But the latest talk is that Cisco (CSCO, Fortune 500) may be working on a deal to sell more of Fusion-io's products as part of its own storage offering. But it's not a takeover rumor. Stay tuned.
The opinions expressed in this commentary are solely those of Paul R. La Monica. Other than Time Warner, the parent of CNNMoney, and Abbott Laboratories, La Monica does not own positions in any individual stocks.