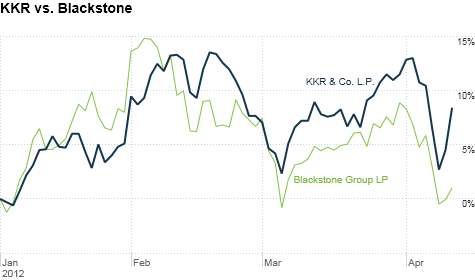 Private equity firms KKR and Blackstone, two of the largest publicly traded buyout firms, are expected to continue rapidly selling their portfolio companies in 2012.
NEW YORK (CNNMoney) -- The private equity industry is on pace for a record year for sales and initial public offerings of its companies.
In the first quarter of 2012, private equity firms either sold or took public 112 companies, generating roughly $21 billion. That was the highest number of first quarter exits since 2007, according to private equity research firm PitchBook Data.
"What you're seeing is the confluence of an improving economy, pretty strong debt markets and strong appetite among sellers and buyers," said Gordon Pan, managing director at Baird Private Equity, which manages $3 billion.
Thanks to this year's market rally, buyers and sellers appear confident about the pricing of deals. And banks are once again facilitating acquisitions by providing the debt financing.
"If the markets continue to be as stable as they've been so far, it's going to be a record year for exits," said Jorge Mora, head of financial sponsors at Macquarie.
The majority of exits come from sales to either companies or other buyout firms, but a healthy initial public offering market is giving buyout shops another alternative.
Roughly 10% of the exits were from IPOs, according to PitchBook data. Automotive parts distributor Allison Transmission Holdings (ALSN) and payment processor Vantiv (VNTV) were among the largest public equity public offerings of the first quarter.
This has been good news for the largest publicly traded buyout firms. Shares of KKR (KKR, Fortune 500) and Blackstone (BX) are both up with the broader market.
Distressed buyout firm Oaktree Capital (OAK) went public to a decidedly more tepid review last week, however. It fell roughly 2% from its offering price last Thursday and dipped again on Friday.
But few analysts expect Oaktree's debut to cast a cloud over the private equity industry -- or other IPOs for that matter.
Industry watchers say there's another key impetus to sell in 2012: Fears of major tax changes after the U.S. Presidential election. Several investment bankers and lawyers say private equity firms think they must sell in 2012 or face potentially punitive tax consequences.
"Most people think it's inevitable that taxes will go up no matter who wins," said Macquarie's Mora.
Republican presidential candidate Mitt Romney's history as a former executive at private equity firm Bain Capital has shone a spotlight on the unique tax structure enjoyed by buyout firms.
Under current tax law, when a private equity firm sells a business it's treated as an investment profit. Such sales are taxed at roughly 15%. Partners in private equity firms also pay taxes of roughly 15% on what they personally earn from private equity profits because it's also considered an investment return rather than income that's taxed at rates of 35%.
Meanwhile, private equity firms are also rushing to sell companies or take them public because it's simply time to do so. 2006 and 2007 were record years for both the amount of money raised by PE firms and the amount they put into taking companies private. And most PE investors only look to hold on to companies for about five years.
"All the stars seem to be aligned. The inventory of companies is there. The capital is there to buy them," said John Gabbert, CEO of PitchBook Data.