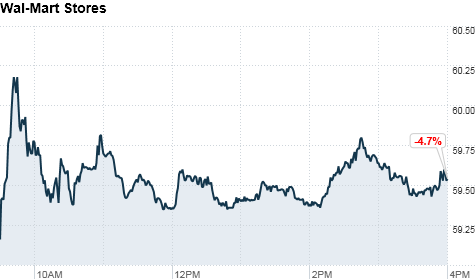 NEW YORK (CNNMoney) -- Wal-Mart's stock price dropped Monday, after bribery allegations concerning the retailer's Mexican operations surfaced over the weekend.
Wal-Mart Stores (WMT, Fortune 500) stock finished 4.7% lower on Monday. On Mexico City's Bolsa Mexicana de Valores, the stock price for the company's Mexican division, Wal-Mart de Mexico (WMMVY), plunged 13%.
The world's biggest retailer drew attention as a result of a New York Times report about alleged bribery in Mexico. The story, published Saturday online, alleged that top executives at Wal-Mart de Mexico tried to hide a widespread bribery scheme from the company's headquarters in Bentonville, Ark.
On an earnings call Monday after the bell, Wal-Mart de Mexico CEO Scot Rank and CFO Rafael Matute didn't address the allegations or take questions.
But John Zolidis, analyst for Buckingham Research, said that the scandal isn't big enough to bring down the retail giant.
"Although the story gives us pause, we believe the impact on the company's business will be minimal," wrote Zolidis in a research note. "We would use weakness to buy the stock."
He added that the most likely outcome is that Wal-Mart "pays some kind of fine. Some movement among executives occurs. We doubt there is noticeable impact on the Wal-Mart brand or on the business."
Allegations in the Times story date back to an executive's e-mail from 2005, which reportedly details how the company paid $24 million in construction-related bribes.
The Times report also says officials at company headquarters were more concerned about damage control than about correcting the matter.
Bernard Sosnick, analyst for Gilford Securities, said that the scandal is unlikely to having a lasting impact on Wal-Mart, especially considering that it happened a long time ago.
"It's six years old, it's part of history, and I don't think it has any real ramifications right now," he said. "It's shocking, no doubt about it. But I think it's just a temporary impediment to the stock."
Wal-Mart spokesman David Tovar issued a statement Saturday, saying "We will not tolerate noncompliance with [the U.S. Foreign Corrupt Practices Act] anywhere or at any level of the company. Many of the alleged activities in the New York Times article are more than six years old. If these allegations are true, it is not a reflection of who we are or what we stand for."
The company said it was conducting an internal investigation.
The Times said the Department of Justice and the Securities and Exchange Commission were investigating the allegations. But the Justice Department did not return a message from CNNMoney, and a spokesman for the SEC declined comment.