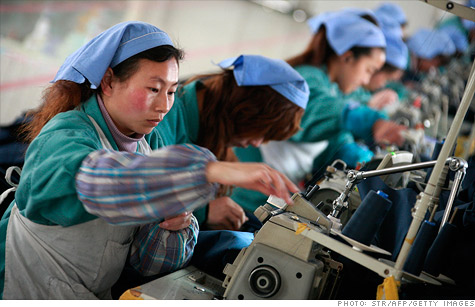 Chinese workers go about their chores at a textile factory in Huaibei, Anhui. China's manufacturing sector contracted in April.
NEW YORK (CNNMoney) -- Manufacturers in Europe and China are still hurting, marking a weak point in the global economy, two separate reports showed Monday.
Manufacturing activity in the euro zone's 17 countries recently slumped to the lowest level in nearly three years, according to Markit's Purchasing Managers' Index. At 46 in April, the index was down from 47.7 in March. Any number below 50 indicates the sector is contracting.
Orders for new goods have been falling as Europe is mired in a recession. In April, factories slashed jobs at the fastest rate since early-2010.
Meanwhile, China's manufacturers also continued to see their business shrink in April, registering a PMI at 49.1, according to data compiled by HSBC and Markit.
Granted, that was not as sharp of a contraction as China saw in March, when its PMI was at 48.3, but it was still seen as a sign that China's government may need to do more to boost its economy.
"The pace of both growth and demand output remains at a low level in a historical context and the job market is under pressure," said Hongbin Qu, HSBC's chief economist for China, in a note.
Slowdowns in manufacturing abroad are worrisome in the U.S. as well because they often translate into weaker demand for American exports. The euro zone accounts for roughly 13% of all the goods the United States exports, and China accounts for about 7%
"Slowing in either region hurts our ability to expand," said Chad Moutray, chief economist for the National Association of Manufacturers.
American manufacturers have already been feeling the impact.
Trade data released by the Commerce Department earlier this month showed goods exports fell slightly in February. Separate regional reports since then show the U.S. manufacturing recovery may have lost some steam in April.
Now manufacturers are hanging their hopes on a gradual housing recovery, strong auto sales and a better job market.
"Even though there is this period of weakness right now, [manufacturers] continue to be relatively upbeat," Moutray said.
"You continue to see a gradually improving housing sector, motor vehicles continue to be selling really well, and I think that as we get some improved employment numbers as we get later in the year, there certainly is potential for a better economy later," he added.