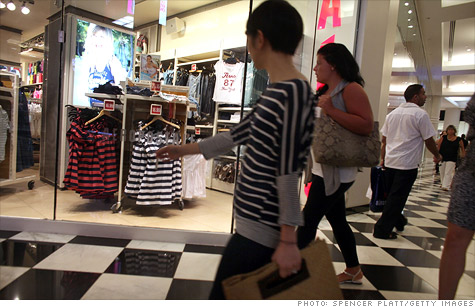 The growth in spending slowed significantly in March.
NEW YORK (CNNMoney) -- Spending by U.S. consumers slowed in March, while income rose at a faster pace, the government said Monday.
A Commerce Department report showed that personal spending increased 0.3% in the month, well down from the 0.9% jump in spending the month before. That was much weaker than the 0.5% gain in spending forecast by economists surveyed by Briefing.com.
Adjusting for higher prices in the month, spending increased only 0.1%.
Income increased a little faster, rising 0.4%, which was an improvement from the 0.2% gain the previous month. It was the first time since December that income growth outpaced spending increases, as consumers dipped into savings the previous two months in order to deal with rising prices, such as increases in gasoline prices.
But inflation moderated in March, and it allowed consumers to increase their savings again. The report showed that the savings rate, which compares after-tax income to the level of spending, edged up to 3.8% from 3.7% in February. That means the average family was saving $38 out of every $1,000 in take-home pay in the month.
"The consumer is still struggling to boost savings," said Steven Ricchiuto, chief economist of Mizuho Securities USA, in a note to clients Monday. He said the much weaker growth in spending shows that "consumers can't buy enough cars to get the economy back to a sustainable growth trajectory."
Consumer spending is an important driver of the nation's economy, accounting for more than two-thirds of overall economic activity. On Friday, the report on gross domestic product, the broadest measure of the nation's economic health, showed growth slowed significantly in the first three months of the year.
But Carl Riccadonna, senior U.S. economist for Deutsche Bank, said it's too soon to worry about the sharp drop in spending in this one report. He said spending for the full quarter showed enough growth to ease any concerns about one weak spending number, and that the income growth in the quarter was encouraging.
"If income growth is positive and staying above the pace of inflation, as it is right now, it suggests wheels are in motion for continued economic progress," he said.
Michael Woolfolk, managing director at BNY Mellon Global Markets, said the upward revisions to previous income and spending numbers also gives the latest report a generally positive tone, despite the weaker-than-forecast spending number.
Still, earlier reports had showed that the pace of hiring slowed significantly in March, which typically can cut into income gains. Riccadonna said that if this Friday's reading on April jobs gains comes in much weaker than expected, perhaps below 100,000 new jobs, it would be reason for concern about growth going forward.
Deutsche Bank is forecasting a gain of 175,000 jobs, while the consensus of economists surveyed by Briefing.com is a gain of 162,000.