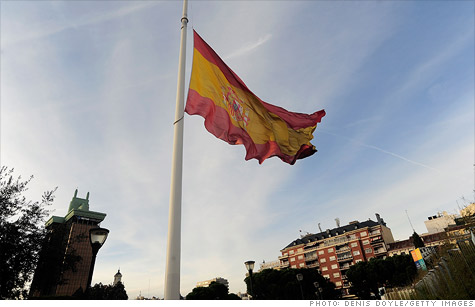 Spain is struggling with a contracting economy and massive unemployment.
NEW YORK (CNNMoney) -- Standard & Poor's downgraded Spain's credit rating by two notches on Thursday, the latest sign Europe's debt crisis is once again gathering force.
S&P said the downgrade, from A to BBB+, "reflects our view of mounting risks to Spain's net general government debt as a share of GDP in light of the contracting economy."
In particular, the credit rating agency cited drags on growth including declining incomes, private-sector deleveraging and the implementation of the government's austerity program. It also raised concern that the government may be forced to provide further support to the country's ailing banking sector.
Spain recently disclosed that its 2011 budget deficit was much larger than expected and warned that the government may not meet its fiscal targets for 2012.
Prime Minister Mariano Rajoy, in power since December, has proposed a €27 billion austerity program. But the Spanish economy, which is suffering from high unemployment and problems in the banking sector tied to the real estate market, has slipped back into recession.
While the authorities say Spain can avoid a bailout, yields on Spanish bonds have risen sharply recently as investors fear the nation will require some sort of external support.
Despite the current difficulties, S&P said the Spanish government "has been front-loading and implementing a comprehensive set of structural reforms, which should support economic growth over the longer term." The agency pointed to labor market reforms that it said will make wages more flexible and support employment growth in the future.
Spain is now rated at the same level as fellow fiscally-troubled states Ireland and Italy. S&P said it expects Spain's GDP to contract by 1.5% in 2012 and 0.5% in 2013.