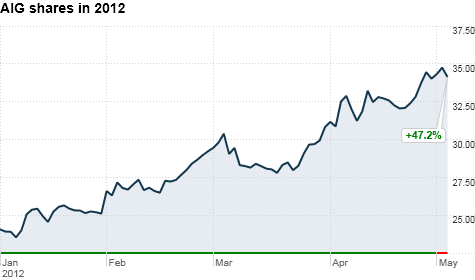 Click the chart for more info on AIG shares.
NEW YORK (CNNMoney) -- American International Group posted first-quarter profits on Thursday that rose sharply versus last year, as the bailed-out insurer inches closer to paying back the U.S. government.
The boost came through lower catastrophe claims, after the tsunami disaster in Japan ate into insurers' profits early last year, as well as investment gains. AIG (AIG, Fortune 500) booked earnings from its stakes in Asian insurer AIA and in Maiden Lane III, a holding company controlled by the Federal Reserve that comprises AIG-related assets and was created as part of the insurer's bailout.
Overall for the first quarter, AIG posted net income of $3.1 billion and earnings per share of $1.65, outpacing analyst expectations. Shares slipped 1.4% in after-hours trading.
AIG was near bankruptcy at the height of the financial crisis in 2008 and needed a government bailout worth $85 billion, a total that later rose to $182 billion. The firm has since been working to pay down this sum.
The Treasury Department still has $36 billion invested in AIG from the original bailout, and the New York Fed is still owed $8.7 billion from a loan to Maiden Lane III.
At $45 billion in total, these remaining investments represent a 75% drop from the government's original $182 billion commitment.
"AIG has again delivered another strong quarter with our core insurance businesses all posting profits," AIG CEO Robert Benmosche said in a statement accompanying the firm's earnings. "We also continue to make good on our promise to help the U.S. government profit from its investment in AIG."
The U.S. government now owns roughly 70% of AIG, down from 92% last year, and officials are hoping to wind this holding down as quickly as possible by selling shares at or above the break-even price of $28.72. AIG's stock has been on a tear this year, closing Thursday at $34.14, though the government can't cash out its whole stake at once without driving that price down.
In March, the Treasury Department sold roughly 207 million shares at $29 each, reducing its total stake to about 1.3 billion shares. AIG itself bought back 103 million of these shares.