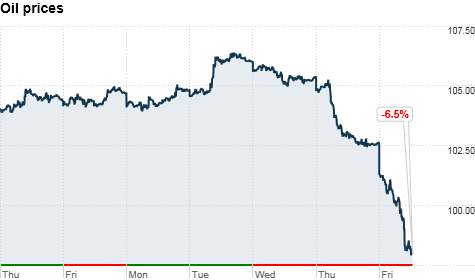 Click on chart to track commodities
NEW YORK (CNNMoney) -- Oil prices have plunged 6% this week, erasing the gains of recent months and easing fears about $5-per-gallon gas ... at least for now.
The price of U.S. crude oil slipped beneath $100 per barrel on Friday, dropping about 4% from Thursday, to settle at $98.49. That's down from $104.87 on Monday.
Oil prices are usually a predictor of gasoline prices, which typically mimic the fluctuations in oil, although sometimes not until days or weeks later.
Average retail gas prices peaked at $3.94 a gallon a month ago and have been steadily falling along with the price of oil. Friday the national average was $3.80 a gallon, according to AAA, down 0.6% for the week. (See correction below).
This knocks the price of oil back down to where it was in early February, which was the last time that oil traded below $100 per barrel before it began its meteoric rise. The price of oil peaked in late February, when it exceeded $109 a barrel.
Brent crude oil, which comes from the North Sea, has also been declining. Brent fell more than 3% on Friday to $112.20.
Tom Kloza, chief oil analyst for the Oil Price Information Service, said the pre-summer run-up in oil and gas prices happened earlier than usual this year, and demand petered out.
"The bottom line is that the [oil and gasoline] market gets sloppy drunk every spring," he said.
He said the demand that drove prices this spring has run out, due to several factors including a slowdown in Asian demand for crude oil.
He also said conflict with Iran, which has injected anxiety into the markets and driven up prices in recent months, has been notably absent this week. Iran has backed off its threat to shut down the Strait of Hormuz, a major shipping lane for oil.
Kloza also said that some European refineries have recently come on line, further reducing pressure on oil prices. Delta Air Lines (DAL, Fortune 500) recently bought its own refinery, an unusual move for an airline, which could reduce pressure on oil prices.
Kloza said the oil price slump will likely put an end to the various forecasts of $5 gasoline, at least for now.
Correction: Gas prices declined 0.6% for the week. An earlier version of this story said prices fell 6% for the week.