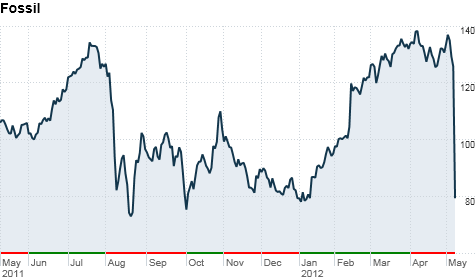 Click the chart to track Fossil's stock.
NEW YORK (CNNMoney) -- Fossil's stock plunged 40% Tuesday after the watch and accessories maker blamed weak sales in Europe for its disappointing first-quarter sales, and slashed its outlook for the rest of the year.
Sales rose 10% to $590 million during the first three months of the year, missing analysts' forecasts for 15% growth to $618 million.
"In Europe, a softening macro environment toward the end of the first quarter and changes in our merchandising and assortment strategies across certain categories negatively impacted both our wholesale and retail sales in that region," said Fossil CFO Mike Kovar in a statement.
Fossil's (FOSL) stock tumbled to $75.56 a share, marking its lowest level since October.
The Richardson, Texas-based company's expectations for the remainder of the year are also underwhelming, with Kovar saying Fossil remains "cautious about the European economy and its impact on our financial results."
For the current quarter, the company expects revenue to increase by 16%, while analysts polled by Thomson Reuters are looking for a 17% rise.
For 2012 overall, the company cut its earnings outlook by 10 cents. In February, Fossil said it anticipated earning between $5.40 and $5.50 per share in 2012, but now it only expects to book between $5.30 and $5.40 per share for the year. Analysts had been forecasting an annual profit of $5.56 a share for Fossil.
In terms of revenue, Fossil is expecting a 16% uptick for the full year, compared with analysts' expectations for 17% growth.
Prior to the weak first quarter, Fossil had booked nine straight quarters of double-digit sales growth, roughly averaging a 28% year-over-year rise for each three-month period, largely due to strength and expansion in Asia.