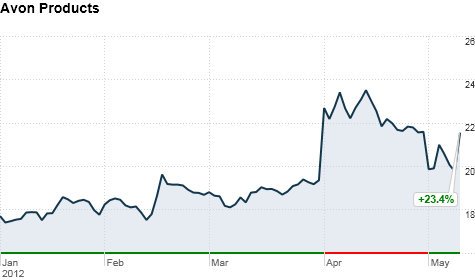 Avon's shares surged after Coty announced its bid for the company, but are still below its offer price.
NEW YORK (CNNMoney) -- Privately held perfume company Coty upped its offer for Avon Products on Thursday, and Warren Buffett's Berkshire Hathaway has jumped on board.
Coty offered $24.75 a share for Avon (AVP, Fortune 500), up from its $23.25 a share offer made just last month. That represents a 15% premium over Avon's closing price Wednesday.
Since Coty publicly announced its initial bid, Avon has demurred offers and hired former Johnson & Johnson (JNJ, Fortune 500) executive Sherilyn McCoy as its new chief executive, in an effort to help the direct retailer regain its footing.
"We continue to believe that our proposal would provide compelling value to Avon's shareholders relative to a difficult and uncertain multi-year turnaround on a stand-alone basis," Coty's board chairman Bart Becht wrote in a letter to Avon's board filed with the Securities and Exchange Commission early Thursday.
On Wednesday, shares of Avon spiked nearly 10%, after Coty's owners, the private holding company Joh. A. Benckiser, announced its intention to sell roughly $2 billion of Reckitt Benckiser stock. That sent a signal that another bid could be imminent.
In its letter to Avon's board, Coty said the rest of its roughly $5 billion in equity financing will come from Berkshire Hathaway (BRKA, Fortune 500) and BDT Capital Partners, the private investment bank of former Goldman Sachs (GS, Fortune 500) vice chairman Byron Trott. JPMorgan (JPM, Fortune 500) said it would provide the debt financing.
Trott is one of Buffett's favorite investment bankers, so some investors started to suspect that Berkshire Hathaway might be involved. He has advised Buffett on several deals including the $23 billion merger of Mars and Wrigley in 2008, as well as Buffett's 2007 takeover of the Pritzker family's stake in industrial conglomerate Marmon Holdings.
A Coty bid for Avon could be the deal Buffett discussed last weekend at Berkshire Hathaway's annual meeting in Omaha, Neb. Buffett mentioned that he had been working on a $22 billion deal that had fallen apart. That's roughly the same size as the potential Coty-Avon deal. Buffett could not be reached for comment.
Coty said it would withdraw its current offer on May 14 if Avon's board does not enter into discussions. It also asked for three weeks to conduct due diligence on the retailer. Coty said it needs to evaluate Avon's expenses, which have dragged down its balance sheet in recent years.
Avon has also been the subject of two Securities and Exchange Commission investigations, including one related to Avon employees allegedly bribing foreign officials and the second for allegedly improperly providing information to analysts.
Litigation costs have eaten into the company's profits. With roughly $11 billion in annual revenue, most analysts and investors don't see another buyer with a large enough balance sheet to consider a buyout of Avon.
Coty, which declined to comment, has now put the ball back in Avon's court. Avon's board said it will weigh the current offer.