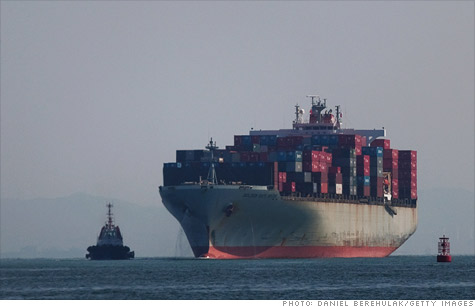 China's international trade slowed in April, reflecting weak domestic demand and the sluggishness of the European economy.
NEW YORK (CNNMoney) -- China's trade growth slowed in April, resulting in an $18.4 billion surplus, the government said Thursday.
By contrast, the world's largest nation had a surplus of just $900 million for the first three months of 2012.
China's Customs bureau said import growth slowed to a virtual stop, up 0.3% month-over-month to $144.8 billion. That was well below the annual growth rate of 6.1%.
Analysts Sun Junwei and Qu Hongbin at HSBC said the import slowdown, the weakest reading of the measure since October 2009, was a sign of sustained weakness in demand for goods in China itself.
Exports also slowed in April, growing at a 4.9% monthly rate to $163.3 billion, Customs said. That was about a third slower than the annual growth rate of 7.2%.
Export growth was especially sluggish with the European Union, the government said, growing just 0.3% in the first four months of 2012.
The HSBC analysts forecast that Beijing will engage in quantitative easing and cut the banks' reserve requirement ratio "in the coming weeks, if not days."
Meanwhile, in Europe, the new Greek government tangles with austerity measures and Spanish bond yields continue to rise.