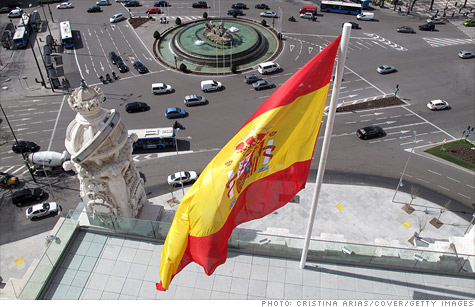 Spanish 10-year bond yields rose above 6% on Wednesdasy for the first time since April 27, fueled by concerns over the banking sector.
NEW YORK (CNNMoney) -- Borrowing costs rose in Spain Wednesday, with the 10-year yield crossing the 6% mark for the first time in two weeks amid rising concerns about the banking sector.
The yield jump was triggered by concerns that Spanish authorities will push banks to increase provisions to cover potential losses on the real estate portions of their portfolios, said Elisabeth Afseth, fixed income analyst for London-based Investec.
And that could be problematic, she said, as the hard-hit banking sector might need to borrow money to satisfy further provisions. But Afseth questions how the banks will be able to pull that off, with government bond yields at their highest point since April 23.
"I think it's getting very difficult for the Spanish banks," said Afseth. "The government is their backstop but the Spanish government is finding it difficult to borrow, as well, when the yields are over 6%."
The Spanish government is expected to announce Friday that banks will be required to set aside an additional €35 billion to cover potential losses on real estate assets, according to reports.
This would be on top of the €36 billion in loss provisions that Spanish banks are required to raise under legislation announced in February.
While the provisions may not cover all of the potential losses that banks face, the reserves could help restore investor confidence, according to analysts at Nomura Securities.
"In aggregate, this is a material increase and should go some way to meeting the concerns of the market," the Nomura analysts wrote in a note to clients.
Meanwhile, Spanish authorities have suggested that the government will also announce a framework to remove bad assets from bank balance sheets, such as a so-called bad bank.
But the details are sketchy and it remains to be seen how Madrid would finance any additional support for the banking sector.
"Although there are indications that this new legislation could be a more comprehensive cleanup of the balance sheet, there are still significant uncertainties," said Nomura.
In the bond market, the 6% benchmark is an emotional one for traders. While that benchmark does not trigger a bailout, it sends up red flags about the need for one.
Equities investors are well aware of this problem. The IBEX, the index of the Spanish equities market, ended the day down 2.8% to 6,812.70 -- its lowest level since 2003.
The Spanish banking industry is one of the low points of the European fiscal crisis. Standard & Poor's made this painfully clear in October, when the rating agency downgraded 15 Spanish banks, including prominent institutions like Banco Santander and Banco Bilbao.
Shares of Banco Santander (STD) and Banco Bilbao (BBVA) shed more than 5%.
Stocks in Europe clawed back from deeper losses to end mixed. Britain's FTSE 100 (UKX) closed down 0.4%, while France's CAC 40 (CAC40) shed 0.2%. The DAX (DAX) in Germany actually ended slightly higher, gaining 0.5%.
-- CNN International's Igor Krotov contributed to this report.