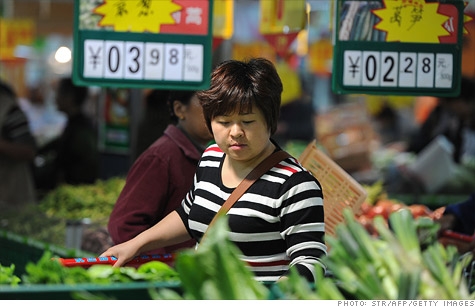 A cooling inflation rate comes as a slight relief to Chinese consumers.
NEW YORK (CNNMoney) -- China's government may have the leeway to unleash more stimulus after reports released Friday showed tamer inflation and slowing industrial production growth.
Inflation rose 3.4% year-over-year in April, the Chinese' government's National Bureau of Statistics reported. While that's far faster than inflation in the United States, it's down from a 3.6% rate in March.
It also comes as a slight relief to Chinese consumers, who as recently as last July were battling a whopping 6.5% annual inflation rate.
In a separate report Friday, the pace of industrial production growth slowed to 9.3% in April compared to a year earlier, down from an 11.9% growth rate in March.
Virtually all industrial sectors posted slower growth, including both light and heavy industry, state-owned enterprises and factories with funds from Hong Kong, Macao and Taiwan and foreign countriess.
Previously the top concern for Chinese officials, taming inflation has now taken a backseat to boosting economic growth. China's trade with foreign countries has recently slowed and its manufacturing sector has contracted. Overall economic growth decelerated in the first quarter.
Mark Williams, chief Asia economist for Capital Economics said that the slowdown in industrial production was particularly worrying because forecasts had been for the growth rate to rebound to 12.2%.
In a note to clients, Williams said the weaker growth in industrial production and lower inflation, coupled with other data showing a slowing in spending growth and lending in China, "drive several nails into hopes that China's economy has bottomed out."
This year, the People's Bank of China -- China's equivalent of the Federal Reserve -- has focused on freeing up credit by gradually injecting funds into the money supply and cutting reserve requirements for banks.
Williams said the reports Friday show that the central bank will need to take additional steps.
"The April data suggest the current policy stance is not only failing to fuel stronger economic growth, it is not even creating looser credit conditions," he said.
Economists at HSBC predict that as long as inflation remains in check, the central bank is likely to step up its easing measures in the coming months, if not days.