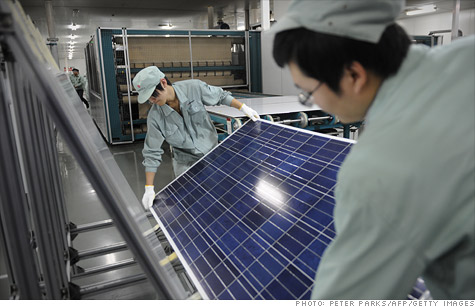 Workers assemble solar panels earlier this year on the factory floor of Chinese company Suntech in the eastern Chinese city of Wuxi.
NEW YORK (CNNMoney) -- The U.S. Commerce Department announced stiff tariffs on Chinese-made solar panels Thursday, a move critics said could raise costs for consumers and further inflame trade tensions with Beijing.
The preliminary ruling came as a result of a finding that Chinese solar cell manufacturers are "dumping" their products on the American market below production costs.
The issue has divided the U.S. solar industry, with some manufacturers complaining that Chinese trade practices are driving prices down artificially and smothering U.S. production. U.S. manufacturer Solyndra became the highest-profile victim of plunging panel prices last year, forced to file for bankruptcy despite receiving $535 million in federal loan guarantees.
Thursday's decision "underscores the importance of domestic manufacturing to the U.S. economy and will help determine whether the country will be a global competitor in clean technologies or outsource them [from] China," Steve Ostrenga, CEO of Wisconsin-based Helios Solar Works, said in a statement.
But others in the industry say the complaint is counterproductive, given that most solar-related jobs in the U.S. are in fields like installation and sales that have benefited from cheap Chinese panels.
"By increasing the price of modules and therefore the price of solar energy, these tariffs will undermine the success of the U.S. solar industry and reduce the ability of solar energy to compete with electricity generated from fossil fuel," Kevin Lapidus, senior vice president at solar energy provider SunEdison, said in a statement.
The tariffs are two-tiered. The first comprises a group of 61 exporters, including Yingli Green Energy and Trina Solar, who face rates of roughly 31%.
The second level encompasses all other Chinese producers not currently exporting to the U.S., who would be hit with a 250% rate should they begin doing so. This higher level was set in order to deter the 61 Chinese exporters named in the decision from attempting to duck the tariffs by shifting production to other companies.
Jesse Pichel, a clean technology analyst at Jefferies, said in a research note that Chinese manufacturers would still likely circumvent the new tariffs by shifting solar cell production or procurement to Taiwan.
The ruling will be finalized in the fall, and the Coalition for Affordable Solar Energy, an industry group opposed to the tariffs, said it would work between now and then to get the rates lowered.
Thursday's decision follows a related ruling handed down in March in response to the same complaint from SolarWorld Industries America, a U.S. manufacturer that is a subsidiary of Germany's SolarWorld.
That ruling imposed tariffs on Chinese-made solar panels that the Commerce Department said had benefited from unfair subsidies by Beijing, though the resulting tariffs -- between 3% and 5% -- were lower than expected.
Shares of China's Yingli (YGE), Trina Solar (TSL) and Suntech Power (STP) fell in response to Thursday's decision, slipping 12%, 8% and 4%, respectively. On the flip side, U.S. panel makers First Solar (FSLR) and SunPower (SPWR) rose 6% and 10%.
The ruling comes at an already-tense time in U.S.-Chinese trade relations, with disputes simmering over rare earth minerals, the auto industry and the yuan's valuation. Analysts say there's a risk that China could retaliate with a World Trade Organization complaint based on U.S. production of polysilicon, which is used to make solar panels.
CNNMoney's Parija Kavilanz contributed reporting.