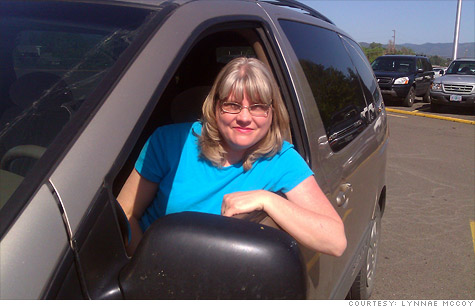 Gas prices are coming down in most of the country, but not for West Coast drivers like Oregon resident Lynnae McCoy.
NEW YORK (CNNMoney) -- Gas prices are coming down for most of the nation, but not for Lynnae McCoy and other residents of the West Coast.
While supplies of gasoline are flush in much of the country, due to a combination of increased domestic production and reduced consumption, supplies are at the tightest point since the early 1990s west of the Rockies. That means that while gas prices have fallen about 5% in the last month nationally, they've barely moved up and down the West Coast.
McCoy, who lives outside Medford, Ore., with her husband Jim and three children, is spending about $65 a week fueling a Toyota minivan to take kids to schools and various other activities. Her husband, a sports broadcaster, spends about $50 on gas to get to and from work.
The $115 or so they're spending at the pump each week is more than many items in their household budget, including tuition to her 9-year old son's school.
"It does make me angry," she said. "It cuts into our lifestyle where we have to make hard decisions. Do I have to work more hours freelancing? How can we cut the grocery budget? We're fairly frugal anyhow. Gas prices are making it really hard to survive."
West Coast prices are typically among the most expensive in the nation anyway. State taxes and strict environmental regulations are two factors. Another is limited supply -- the West Coast is far from domestic sources such as the Great Plains and the Gulf Coast, as well as from the Middle East.
"Gasoline stocks in the country are OK, but if you look at inventories on the West Coast, they're lower than they've been in May since 1992," said Tom Kloza, chief oil analyst of the Oil Price Information Service, the firm that compiles the pump price averages for AAA. "People are going to be complaining out there."
AAA's reading of gas prices typically shows California pump prices about 30 cents a gallon higher than what's paid by motorists nationally. Oregon and Washington State have prices comparable to California.
But as prices nationally have fallen 21 cents a gallon since early April, the gap between that average and the California average has swelled to more than 60 cents -- $3.722 a gallon for unleaded nationally, compared to $4.366 in California. Other West Coast states are paying about 50 cents above the national average -- $4.239 in Washington State and $4.215 in McCoy's Oregon.
Hawaii has the most expensive gas in the country at $4.546, followed by Alaska, which has plenty of oil but no refineries. Gas there costs $4.487.
But no other state is paying more than $4 a gallon although three are within a few pennies of that pain threshold -- New York and Connecticut, the two states with the highest gas taxes, and another western state, Nevada, where the average price is $3.968.
Prices are likely to decline on the West Coast once refineries are done switching over to the cleaner summer blend of gasoline that meets environmental rules. But there's going to be more pain for the West Coast drivers before they see meaningful relief later this summer.
"I won't be surprised to see the West Coast actually rebound above some of the highs we saw in March," said Kloza.