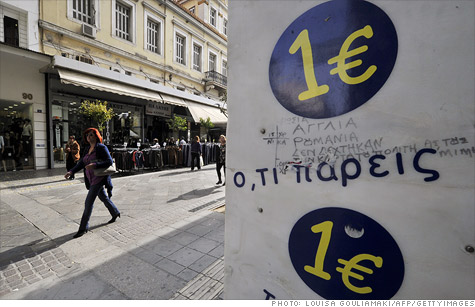 It's becoming increasingly likely Greece will be forced to drop the euro.
NEW YORK (CNNMoney) -- Efforts to keep Greece out of default and in the eurozone grow more uncertain by the day.
The next few months will determine how successful those efforts will be. And the ramifications could prove crucial for other troubled European countries, as well as the broader global economy.
Investors fear that if Greece's situation worsens, it could lead to a "Lehman" moment that causes a meltdown in global financial markets.
Here's what's coming up.
In coming days: Lifeline for banks The European Central Bank stopped providing loans to some Greek banks last week, saying the banks needed to recapitalize before loans would resume. The recapitalization is expected to be completed within days.
The €23 billion needed by the banks will come from the bailout approved in March by the so-called troika -- the European Union, the ECB and the International Monetary Fund. The money is currently sitting in an escrow-like account and has yet to be disbursed.
Greek banks need access to cash after customers, worried their euros could be converted to drachmas if Greece were forced out of the eurozone, withdrew some €800 million in a single day last week.
The withdrawals haven't reached bank run levels yet, but some are referring to them as a "bank jog" that could put Greece's entire banking system at risk.
June 17: Parliamentary elections The first round of voting on May 6 denied the previous ruling coalition the seats it needed to form a new government. But none of the other parties were able to form a coalition, requiring new elections.
Syriza, a coalition of leftist parties, has gained support in polls and is poised to finish first in the next round of voting, though its ability to form a government is still in doubt.
Syriza has vowed to fight the wildly unpopular austerity measures that were a condition for Greece to get the €130 billion bailout agreed to in March. Syriza leader Alexis Tsipras vows that if European leaders continue to insist on austerity for Greece, the country will default on its debt and plunge Europe into its own economic crisis.
"We will cancel all these austerity measures," he told CNN Wednesday. "We believe that this crisis is not a Greek crisis but a European crisis. And we will try to find a common solution - about the role of ECB, about the Europe bonds, about the negotiation of the public debt of all the European countries."
End of June, the troika weighs in By the end of June, officials from the troika are due back in Athens to certify that the Greek government is moving ahead with the agreed upon austerity measures, in order to approve the next bailout payment -- likely about €5 billion.
Greece has already received €107.9 billion.
If the next vote has not produced a governing coalition, or if a new coalition refuses to implement the austerity measures, European leaders have vowed to hold back the next bailout payment of the remaining €71.7 billion promised to Greece. And that could force Greece to quickly run out of money.
Early July: Bills start to come due The Greek government could start to run out of the money it needs to run its basic operations -- to pay government employees and keep the lights on -- if it doesn't get its next round of funding, according to Mohit Kumar, fixed income analyst for Deutsche Bank.
If that happens, it's unclear what steps Greece could take to remain in the eurozone.
"The country could face the temptation of closing its budget deficit by using IOUs to pay salaries and fund a bank recapitalization, which risks establishing a shadow currency," said Merrill Lynch/Bank of America in a recent note to clients. "How long Greece could be within the euro and live with its own internal currency is an open debate."
After default: Bank run, euro exit, contagion possible If the money runs out, there is widespread belief that Greece will be forced out of the eurozone. What's far less clear is how this would happen, since the treaty creating the common currency now used by 17 nations never envisioned a country dropping out.
But as the possibility of an exit becomes more real, either due to election results, a denial of additional help by the troika or the Greek government running out of money, the so-called bank jog could quickly develop into a full-fledged bank run, as Greek bank customers try to protect their savings in euros.
"Even if they're recapitalized, that won't stop people from pulling their money out. And predictions of a run become self-fulfilling," said Jonathan Loynes, of Capital Economics.
Borrowing costs are likely to rise in other nations with their own sovereign debt risks, such as Portugal and Ireland, which have already received their own bailouts, as well as Italy and Spain, both much larger economies that have yet to need bailouts.
If the troika needs to rescue those countries, costs will soar, and many fear the entire euro could become doomed to break apart.