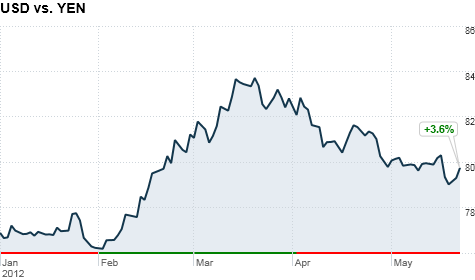 Click chart for more currency data.
NEW YORK (CNNMoney) -- Fitch Ratings cut Japan's credit rating Tuesday, citing "growing risks" from the country's "rising public debt ratios."
Fitch forecast that the Japanese government's debt will reach 239% of gross domestic product by the end of the year, which would be the highest of any countries rated by Fitch.
Fitch also criticized Japan's plan to control in its debt as being too "leisurely."
The rating agency downgraded Japan's long-term foreign and local currency issuer default ratings to A+ from AA and AA-, respectively, with negative outlooks for both.
The yen continued to weaken against the U.S. dollar, falling nearly 0.5% to ¥ 79.70 early Tuesday. The Japanese currency is down nearly 4% against the greenback so far this year.
But the rating agency praised Japan for maintaining "exceptional financing flexibility" and its ability to "fund itself at low nominal yields."
"This funding strength is based on the deep pool of Japanese private sector savings," said the agency.
Japan has shown resilience in the face of a tsunami-earthquake that devastated part of its coastline last year, killing thousands of people, wiping out entire communities, and triggering the meltdown of a nuclear power plant.
Despite that, the economy has still managed to grow, bolstered by strong domestic demand and government spending. The government said that its GDP grew by 1% in the first quarter, or an annualized rate of 4.1% for 2012. That's nearly twice the rate of the U.S.
Asian markets, including the Nikkei in Tokyo, closed higher ahead of Fitch's announcement. The Nikkei (N225) rose 1.1%, while the Hang Seng (HSI) gained 0.6% in Hong Kong and the Shanghai Composite (SHCOMP) added 1%.