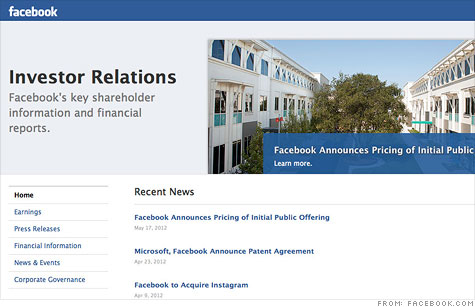 Facebook's own investor relations site is surprisingly dull and lacks many of the social features that appeal to its more than 900 million users.
(Stockr) -- Vinny Jindal is the Founder and CEO of Stockr. Before starting Stockr, Jindal was a Principal at Boston Millennia Partners, and a Managing Director and Head of Healthcare Equity Research at ThinkEquity Partners.
As a newly minted public company, Facebook's stock price will move up or down based on a multitude of factors, not the least of which is how it engages an investor base that's suddenly gone from a few to a few million.
The investor relations challenge is to keep shareholders informed, engaged, and willing to hold on the stock for the long haul.
Facebook's stock performance suggests that they're not doing a great job so far. Facebook (FB) is among the most powerful mass communications tools ever invented, and it's a good bet that most of Facebook's shareholders have accounts on Facebook. Which begs the question: Why isn't Facebook's investor relations team using Facebook to talk with its new user-investors?
Looking at their recently posted IR page, it's a bit shocking to see that the only way to connect with Facebook as a shareholder is a "Contact Us" button; how un-Facebook!
Leading up to the IPO, Mark Zuckerberg and his fellow Facebook executives spent months giving institutional investors a detailed, under-the-hood (and under-the-hoodie) look at the company and its finances.
This culminated in a multi-city roadshow where Facebook's executive team met face-to-face with fund managers and the army of investment bank employees that was taking them public. The public itself only gets that "Contact Us" button.
Transition from Facebook to FB Might Be Complex
The shareholder-consumer link has always been a powerful one; people who own Nike (NKE, Fortune 500) stock tend to buy Nike shoes, and traders with E*Trade accounts disproportionately own shares of E*Trade (ETFC).
Facebook's famously strong bond with its users might now cut both ways. With its privacy policies, for example, Facebook's 'do first, apologize later' mentality has repeatedly drawn the ire of its users, but this mentality results in nothing more actionable than a few mean words and even fewer defectors.
These moves may become harder for Zuckerberg and company to maintain, as users can now hit them where it hurts -- by dumping their stock.
Ironically, it's social platforms like Twitter and Facebook that have helped shareholders organize and speak out against management at companies like Citigroup (C, Fortune 500), Wells Fargo (WFC, Fortune 500), and GE (GE, Fortune 500), and inspire what has been the ongoing 'shareholder spring.'
Moreover, institutional investors will be closely monitoring sentiment on Facebook as a measure of user engagement, the modern version of a channel-check. Vocally unhappy users make portfolio managers with itchy trigger fingers hit the panic button and sell.
But Is Facebook the Right Message Board for FB investors?
There are tons of analysis about where Facebook's stock will go from here. Interestingly, very little of this is happening on Facebook. According to data from Sprout Social, Facebook ranks 5th among websites for where the term 'Facebook IPO' shows up, behind Twitter, Digg, Delicious and Identica. So people are not talking about FB that much on Facebook.
But is that because people don't really talk about the stock market at all on Facebook? In an attempt to answer that question, I created a Facebook advertisement targeting people who listed 'stock market' as an interest.
I was surprised that only 373,000 Facebook users in the United States (0.2% of total U.S. Facebook users) fit this description. By any metric, this represents only a tiny fraction of Americans that care about the market. Clearly, people use the Internet to research companies and talk about stocks -- they are just not doing it on Facebook.
It also appears that companies who use Facebook to reach their millions of customers aren't using it to reach their millions of shareholders. Facebook has ushered in a new era where companies can locate, speak to, and hear from people who want to engage with them.
Yet doing a search for 'investor relations' on Facebook yielded only two public companies -- Turk Telekom and Brazilian airline GOL (GOL). These two IR sites had a total of only 773 followers.
It makes sense. Companies probably would rather discuss their product than their stock with their Facebook fans. Why would Apple (AAPL, Fortune 500), for example, want to steer the conversation at Facebook away from how cool the iPad is towards its stunning operating margins? Those numbers may be compelling for investors but are completely boring to most human beings.
That said, if there's one company that should be using Facebook to talk about its stock, it's Facebook. It would be painfully ironic if Facebook neglected to use social media to create more powerful relationships with their investors.